Black Sabbath, The End Tour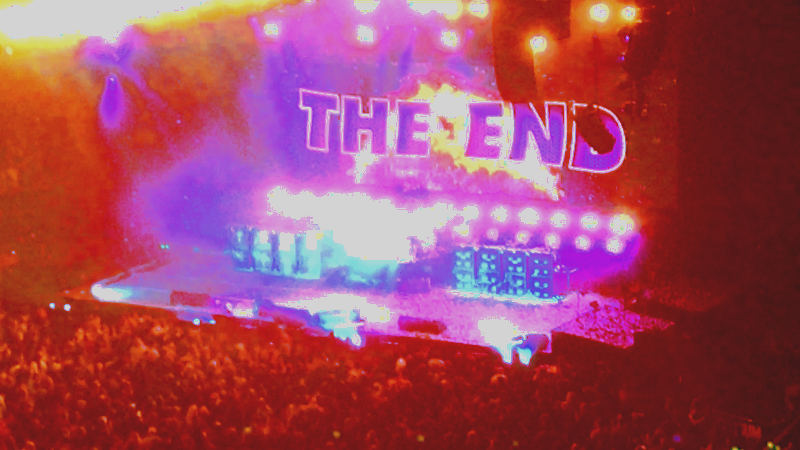 United States
February 14, 2016 3:52pm CST
This past thursday, my girlfriend and I went to go see Black Sabbath in concert at the Forum in Inglewood, Ca. Opening band was a local band called Rival Sons. I thought they were a cross between Led Zeppelin, due to the singers voice, and a rock vibe of the Black Crows. No doubts about it, they had a classic 70's rock sound to them. Black Sabbath then came on and played for just over an hour and a half. They were tight and really into it. The only original member that was not there, was the drummer. (According to what i've read on the internet, he couldnt come to contract terms with the group). The main things I took away from this concert were realizations- 1st- Black Sabbath has been around for years ! And I saw the many generations of their fan base throughout the arena. 2nd- Black Sabbath still kicks @$$ on stage! They sounded terrific ! 3rd- You can tell that Ozzy is still loving what he's doing on stage, but his body is showing otherwise. I would compare it to an athlete who's at the tail end of his career but his love for the game won't let him retire. 4th- After the recent deaths of Lemmy Kilmister, David Bowie and Glenn Frey- I started to wonder if I had just seen my idols for the last time. **Photo was taken by me, Plethos, after Black Sabbath said thier goodbyes and walked off the stage**
9 responses

• United States
14 Feb 16
The early Sabbath albums still get lots of play-time on my turntable, but with tickets priced so outrageously, I won't go see them. Glad you enjoyed the show though.


• Dallas, Texas
10 Oct 16
@Plethos
You got to see Rival Sons and Black Sabbath live. I'm a smidge jealous. :p Though admittedly, I'm not fond of the grim tone at the end of your post. Because that's the sad reality of that this is the final time we'll get to see these guys live. And after looking up the tour dates, I missed when they came to Dallas last month. :( I mean I can watch videos on youtube. But after The RockStar Uproar Festival of 2010 and Music As A Weapon IV, nothing for me beats the experience of a live concert. And given that this is Black Sabbath's last show, man... I've got some regrets now.




• Rochester, New York
16 Feb 16
I love Ozzy. I used to love watching The Osborne's on Mtv. lol He was a riot!

• United States
16 Feb 16
all i remember from his t.v. show is . . . " mumble, mumble, mumble . . . SHARRRONNNNNNN !!!" ive also seen him thrice during the ozfest tours, i got to see the original lineup of black sabbath during one of them. he played his solo set and then closed out the show with sabbath headlining. so this was the second time ive seen sabbath.

•
14 Feb 16
Sounds enjoyable, expensive and loud! So many ageing rockstars still strutting their stuff ...

• United States
11 Jul 16
@Plethos
Man, I missed it. I live in Lawndale, only 5 miles away from the Forum. I used to be a head banger, but I've calmed down a bit :)

• Aurora, Missouri
16 May 16
Hey! I wondered why I hadn't seen you in a while... Now I know. I hope you are all right, Plethos! Take care of yourself!


•
8 Mar 16
I saw Ozzy about 6 years ago in the UK and he was awesome. Yeah its sad to know it could be the last time.