Swagbucks SWAGO Is Back … But Is It A Good Thing?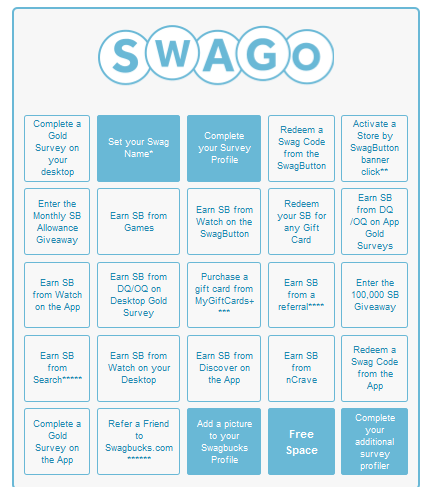 United States
February 15, 2016 8:25pm CST
I missed out on the SWAGO game boards when they were available in the past and after the last board was released I tried to fill it to get the 100SB bonus. That proved to be beyond frustrating because some of the blocks required you to have someone sign up as a referral or to complete a Gold Survey. Because there are so many issues with the site (and events like this just make it worse) you can't count on anything going through as planned until you actually see it credited to you account or have it be lit up on the board. This time around the prize structure is the same and unless I find someone that wants to sign up, can do a Gold Survey (you need to do one on your desktop and on the app) and purchase a gift card from MyGiftCards+ (never gonna happen) I will have to settle for one of the 5SB formations because the MyGiftCards+ option is right in the middle of the square (center piece). SWAGO is free but you can only submit a board one time so it's best to wait until the last day to submit it in case you hit a hot streak. I have always had trouble with the Gold Surveys and the screens not retaining my information. Likewise, the MyGiftCards+ (that they are pushing incredibly hard) site isn't the least bit appealing to me. I am not going to spend money on a gift card just to earn SB because I can just buy the gift card through Swagbucks and eliminate all the crap that comes along with it. SWAGO Page: www.swagbucks.com/swago Join Here: www.swagbucks.com/swago?join=1 What's your favorite way to earn gift cards online? Have you ever played SWAGO in the past at Swagbucks? Do you have any luck completing surveys for SB? Image: Swagbucks / my SWAGO board
5 responses

• Brookville, Pennsylvania
16 Feb 16
I don't know if I'll be able to get anything because I don't have the App, I doubt I'll have any referrals, and I'm not buying anything. I think that just about blocks even the 5 point ones. But maybe I'll get lucky.

• United States
16 Feb 16
The first time I did a SWAGO board I thought you could complete it and get another one. I sent it in with a 5SB match and was sitting there looking at the screen waiting for the next board to pop up LOL. I won't be able to get any of the higher SB patterns so I am not going to stress over it

• Canada
16 Feb 16
I have no one who will sign up. I mostly get SB from playing the games, the daily poll and that other 2 SB thing and for searches. Most days if I have time I will qualify for one survey. Today I didn't. I don't watch the videos as it eats up all my internet. It takes me about 6 weeks to get $25 but that's okay I don't put in a lot of time.

• United States
16 Feb 16
I got 5 points out of the last SWAGO because I could only complete one row. This time I signed up for it, but realized I wouldn't get one single row completed - so I'm just NOT going to try. Yah, I don't want to add the SwagButton, I don't do referrals, I'm not entering or purchasing anything, I don't like nor want to use the App, and I don't get nCraves anymore. Yes, I actually can qualify for a survey or 2 each day lately . . . but that alone doesn't help me much with SWAGO. So I'm just gonna aim for my daily goals as usual

- I'm not gonna sweat over not being able to participate in SWAGO just for a few measly SBs.

• United States
16 Feb 16
Totally with you on that. They structure the boards so that you will have to spend money (on gift cards) or get people to sign up. Let's face it, that can be intimidating when you are a new member because there are so many things to 'learn' if you haven't done reward sites in the past.

• United States
16 Feb 16
@freak369
Yes, I can see how it be overwhelming. I stopped for a long time and came back to SB - I had to relearn how to get into the swing of things. I think the thing to do is just do what you can do - seriously don't sweat over any of this stuff. It's cool we can make a few extra bucks there, no sense stressing over a few measly bucks. The "games" just make it more hopeful and make us eager - but we shouldn't feel obligated or feel like we missed out on anything just because we can't do it.


• United States
16 Feb 16
I think the purpose of Swago is to get people to do the things they do not want to do. I can't do surveys and I will not refer anyone when I am thinking of quitting myself. I am not going to buy anything to get points or waste my hard earned points on a sweepstakes that I will not win.

• United States
16 Feb 16
AGREED! While I am not thinking of quitting and have never had any issues with redeeming points for gift cards or Paypal (or Amazon) their surveys leave a LOT to be desired. How people are doing so much at the site that they have a daily goal of 900+ is beyond me because there are days when I can't even get to 100 without watching videos or finding the occasional sign up.

• United States
16 Feb 16
I saw that for the first time today. I thought it would be nice to join in but it asked me to update my name. I could not figure that one out and I don't do surveys which made it a waste of my time.