What will u do to make atleast ONE person smile today?

India
7 responses

• Italy
18 Feb 16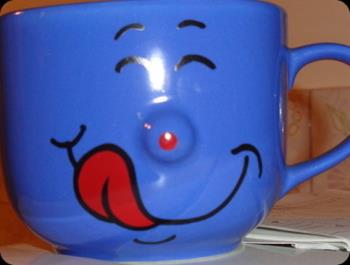 The sun is shining here today and I have a break this afternoon so I will phone a friend and arrange to meet for a coffee mid-afternoon in a place where they have tables and chairs outside. She will love that I am sure! Maybe I can make you smile too with the pic of a mug that I have in my home


• Cyprus
18 Feb 16
Hahaha hahaha

that is sooooo... Cute!


• Italy
18 Feb 16
@Nikkiahmet
YOU made me smile with your comment there!



• Cyprus
18 Feb 16
Vice versa,, it be lovely for me to smile today

ahhhhh one of them days


• United States
18 Feb 16
I will be talking to my mom on the phone like always. I seem to always say something funny and she always has a good laugh with me.

• India
18 Feb 16

• Philippines
18 Feb 16
I am a playmate of my kids,we played and that they not only smiled but laugh.

• Philippines
19 Feb 16
My husband made me smile when he gave me a box of cassava cake as he came home from somewhere this morning so in return i gave her a sweet kiss and he smiled widely.

• Singapore
18 Feb 16
I did here too - some of my responses should have brought a smile. I like to break the ice everywhere and mostly by spreading some cheer - siva

• Malaysia
10 Mar 16
I am sure if I kiss my children or smile at them, they will smile. Today I am going to make a origami bunny for them, that will certainly make them smile. I have been doing the origami bunnies with them for a few days, as Easter is coming soon!