Unicorn on the loose!

United States
February 26, 2016 1:37pm CST
Yes, a unicorn, at least that was the call coming into the police department! I wish I had been there!



Drivers in the Central California town of Madera got quite a surprise Wednesday night as a unicorn darted through traffic. Well, not really a unicorn, but a white pony dressed up like one for a child's birthday...
7 responses

• United States
26 Feb 16
Hahah Now I wish I woulda been there too Elic lolz


• United States
26 Feb 16
@TiarasOceanView
What would Lisa Frank think?!




• United States
26 Feb 16
Ohhhh, my daughter would have loved to have been there to witness this!

If it happened during the day and there was a rainbow in the sky, well, it would have been the most perfect day!


• United States
26 Feb 16
@ElicBxn
My daughter loves My Little Pony . . . and we are having a party this weekend. If only that unicorn darted to Southern California and crashed our party - THAT would have been perfect!




• United States
27 Feb 16
I can just hear the dispatcher for that first phone call. "911, what is your emergency?" "Ah... yeah... you're not going to believe this, but there's this unicorn running around on the highway..." "A unicorn?" "Yeah, I said you wouldn't believe it..."


• East Tawas, Michigan
15 May

• East Tawas, Michigan
15 May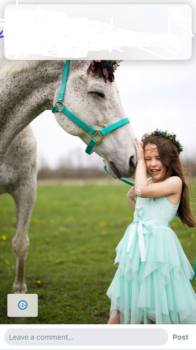 @ElicBxn
They arranged for a photo shoot, which turned out so nice:)

• Garden Grove, California
26 Feb 16
darn wish I could have seen it lol a white pony all dressed p for a hildr birthday party ; Hope the ny was corraled safely and got to the kid's birthday party in time.