The Ten Commandments - Fourth Commandment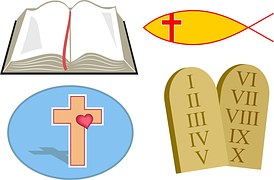 Green Bay, Wisconsin
February 29, 2016 1:35am CST
Fourth Commandment We come to the last of the commandments focusing on God. It is yet another commandment nobody adheres to, and yet even scientists have found it is necessary for the body to rest from work with a day off every week. Exodus20:8 Remember the sabbath day, to keep it holy. 9 Six days shalt thou labour, and do all thy work: 10 But the seventh day is the sabbath of the LORD thy God: in it thou shalt not do any work, thou, nor thy son, nor thy daughter, thy manservant, nor thy maidservant, nor thy cattle, nor thy stranger that is within thy gates: 11 For in six days the LORD made heaven and earth, the sea, and all that in them is, and rested the seventh day: wherefore the LORD blessed the sabbath day, and hallowed it. When I was a child stores were closed on Sunday. Even taverns or bars were closed, and you could not buy a car on Sunday, and was still the case a few years ago. I'm not certain if that rule still applies. However, with the progress of retail shopping with malls rising up and opening up all over the country, stores expanded their hours to seven days a week, and even becoming twenty-four hour stores to lure customers through their doors. Work applications needed to show the place of employment was an equal opportunity employer and didn't discriminate against race and religion among other things. People were eager to do two things – earn money and keep up with their neighbors, so they were seen in stores at all hours of the day and night. As a result, churches lost regular attendees. Recreation became more important than God. Church attendance went down, crime went up. God told Moses His people were to work six days a week and rest on the seventh day because God rested and hallowed – made sacred – the seventh day. Scientists found when people worked more than six days in a row, stress and health related problems were readily seen in the work place. People needed time off. However, it wasn't science who started the forty hour work week. It was Henry Ford, and his reasoning was so his employees would have time to buy the things they needed. It all centers on the consumer and if there are consumers – you and me, there need to be businesses for consumers, and that means people to work. God told Moses to keep the Sabbath day holy. Work six days not seven, and that meant everybody, and God told him the reason why – because He, God, rested on the Sabbath day and hallowed it. How do we keep the Sabbath day holy? 1. We go to our place of worship and give God the honor and praise for all He did for us. 2. We spend time with our family in leisure activities, not at the malls and stores, but in leisure activities. It's time to play with our children, connect with them, and let them know we value them. It's time to spend with our spouse and let him or her know how much he or she means to us. When we put God back in first place in our lives, God will bring honor into ours. Not only that, we will be rested and ready for another work week. It's time we obeyed the Fourth Commandment and rested on the Sabbath and put God back in our lives. Image courtesy of Pixabay
7 responses

• Philippines
29 Feb 16
I always look forward to Sundays , because it's the day of worship to our God . I feel good every time i have done my worshiping . It seems i am ready to face whatever problems that may come .


• Green Bay, Wisconsin
29 Feb 16
It does give you that sense of peace.

• Banks, Oregon
29 Feb 16
Come on people this is one of the easy ones, all you have to do is just not work lol.

• Green Bay, Wisconsin
29 Feb 16
This should be easy, but so many people not only work seven days a week, they also bring their work home with them. It's time to take a break and let the mind and body rest. One day is all God is asking of us.

• Ireland
1 Mar 16
The Irish employment law actually mandate a full day of rest every 7th day. Guess that's the closest to "keep Sunday holy".

• Green Bay, Wisconsin
1 Mar 16
We have that law too, and it's up to the employer which days we get off.

• Green Bay, Wisconsin
1 Mar 16
@Drosophila
It really is when the employer makes it mandatory you have to work the weekend.


• United States
29 Feb 16
I miss those days of my childhood, when stores restaurants and most everything else was closed. It was a simpler time then. Unless it is an absolute emergency we do not go anywhere but to church on Sunday's. This was a great lesson. Have a blessed day

• Green Bay, Wisconsin
29 Feb 16
It was a simpler time. I miss it too.

• Philippines
29 Feb 16
To me, Sunday is the Lord's Day so we do spend the day in worship and fellowship in the church.

• Preston, England
29 Feb 16
I like the idea of a five day working week with a long weekend for most employees, outside emergency services but it should not and need not be a religious break

• Green Bay, Wisconsin
29 Feb 16

• United States
7 Mar 16
This was the beginning of all the troubles that Christianity has endured over the past 1,600 years or so: the abolishment of this commandment. The commandment says, "The seventh day is the Sabbath of the LORD your God.". Sunday is the first day, not the seventh. Because people have been indoctrinated to ignore this commandment they now ignore the other commandments -- all because Christianity has taught that this one really isn't "that important." A Pew survey a few years ago reported that one third of Christian men admitted to having an affair, and 77% of men say they'd have an affair if they knew they wouldn't get caught. Look at the murders that are on the rise in this country and how people are more anxious to solve minor spats with a weapon than with talking. Now people make all sorts of excuses for violating this commandment. "Christ nailed the law to the cross" (usually from people who also say "keep the Ten Commandments" and like to tout Leviticus 18 in reference to banishment of homosexuality). "I worship every day" (there's nothing in this commandment about worship [that's the first one], it's a commandment to REST). "It's the Jewish sabbath" ("the seventh day is the sabbath of the LORD your God", not "of the Jews"). "You're a legalist if you keep the Sabbath!" (So is a man-made legalism of not keeping the sabbath and in fact violating the commandments of God "legalism" too?) This just reiterates the lie Satan used on Eve in the Garden of Eden ("did God really say not to eat from the tree of knowledge? He didn't mean it, go ahead and eat!"): "did God really say the seventh day is the Sabbath? He didn't mean it. Pick whatever day you like, it's all the same to him!"