This is a very stupid rule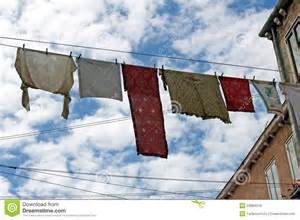 Guangzhou, China
February 29, 2016 8:16am CST
Tonight I watched a news. In order to have a better city look, the officers said that we should not hang and dry our clothes in the streets. In the old downtown, the people live small houses and they even don't have a balcony to hang and dry their clothes. Actually they have nowhere to hang their clothes but hanging them outside the houses. It is very inconsiderate not allow them to dry their clothes outside. A reporter interviewed an old granny and this old granny said she had to hang the clothes at night when nobody saw it... I think this rule can't be carried out completely because it can't work because of such a stupid thought
7 responses

• Philippines
29 Feb 16
they care about how the city look good more? what about drying dirty laundry? i wonder those people who made that rule, were they dried their clothes?

• Philippines
1 Mar 16
@youless
free dryers and hair blowers would suffice

for the villagers

• Boise, Idaho
29 Feb 16
Why can't they hang them in the back. Why does it have to be on the streets? I have to agree with them.

• Boise, Idaho
29 Feb 16
@abhinalstrikr
...Okay. Then I am confused on why there is any problem. Why would anyone want to hang their laundry out in front?

• Guangzhou, China
1 Mar 16
@celticeagle
Because their home is too small to hang the clothes.


• United States
29 Feb 16
Yes I agree with this totally. Here where I live we are not allowed to do so either. It costs me money I do not have to put them in the dryer. What a crock of shite for them to come up with this law over there where you are too making it hard on people.

• United States
1 Mar 16
@youless
yes I understand.I too have no dryer I have 2 go out

• Guangzhou, China
1 Mar 16
@TiarasOceanView
We don't have many laundry stores here. And usually we just give the laundry stores expensive coats to have the dry wash. And it is expensive.


• India
29 Feb 16
yes this is not so good,at least the government should have some alternative

• Singapore
2 Mar 16
I think that is a very stupid idea too. In Singapore, we still hang our clothes outside, and nobody says that we have an ugly country because of this practice. The country is so hot and sunny, and that is the best weather for drying clothes.

• Roseburg, Oregon
1 Mar 16
That does sound like a very stupid rule.

• United States
29 Feb 16
I think the rule is silly too. The government always seems to mess things up for people and make life so much harder.