nuts

United States
10 responses

• India
24 Nov 06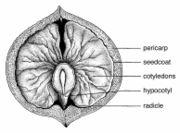 Nuts are very nutritional.....almonds are the ones i like most ... Several epidemiological studies have revealed that people who consume nuts regularly are less likely to suffer from coronary heart disease. Recent clinical trials have found that consumption of various nuts such as almonds and walnuts can lower serum LDL cholesterol concentrations. Although nuts contain various substances thought to possess cardioprotective effects, scientists believe that their fatty acid profile is at least in part responsible for the hypolipidemic response observed in clinical trials. In addition to possessing cardioprotective effects, nuts generally have a very low glycemic index (GI). Consequently, dietitians frequently recommend nuts be included in diets prescribed for patients with insulin resistance problems such as type 2 diabetes mellitus.

• United States
24 Nov 06
walnuts, almonds, cashews


• United States
27 Nov 06
Pecans are my all time favorites..being from the south, we used to go out and pick all we wanted...I guess I like almost all kinds, except I'm not too fond of peanuts..