Do you know why the lobster is so expensive?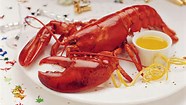 Guangzhou, China
8 responses

• Switzerland
1 Mar 16
Once upon a time, lobsters were the poor men meal. Until the beginning of 19th century they were everywhere. Then, around the turn of the century, the restaurants in Maine started to serve whole, boiled lobsters to rich summer vacationers. Blame them for the price of lobsters.


• Calgary, Alberta
1 Mar 16
You need to dive under the ocean to catch them. You will be riding a boat that runs with gasoline to catch them too. Also there is a high demand too. When they catch baby lobster, they let them grow for a decade before they get sold,

• Calgary, Alberta
1 Mar 16
@youless
crocodile meat is cheaper than lobster and I believe they have the same taste,

• Guangzhou, China
2 Mar 16
@CaptAlbertWhisker
My mom ever bought the crocodile meat to make the soup. I can't say the meat is nice because it is like the pork in my opinion. Whereas lobster is much more delicious



• United States
2 Mar 16
Thanks for that explanation. I would it costs a lot to transport lobsters too. I had lobster decades ago, but no longer eat meat or fish.


• Manila, Philippines
1 Mar 16
Now I know why they are expensive. When I was a child, I was able to get lobsters with my friends at the creek and they will bite our fingers.



• United States
1 Mar 16
I think it's where your buying it to be honest. I know people that don't dar pay what it cost me for lobster.