An article stating that Oprah said that WHITE PEOPLE are the cause of RACISM and that "WHITE PEOPLE HAVE TO DIE" is a lie.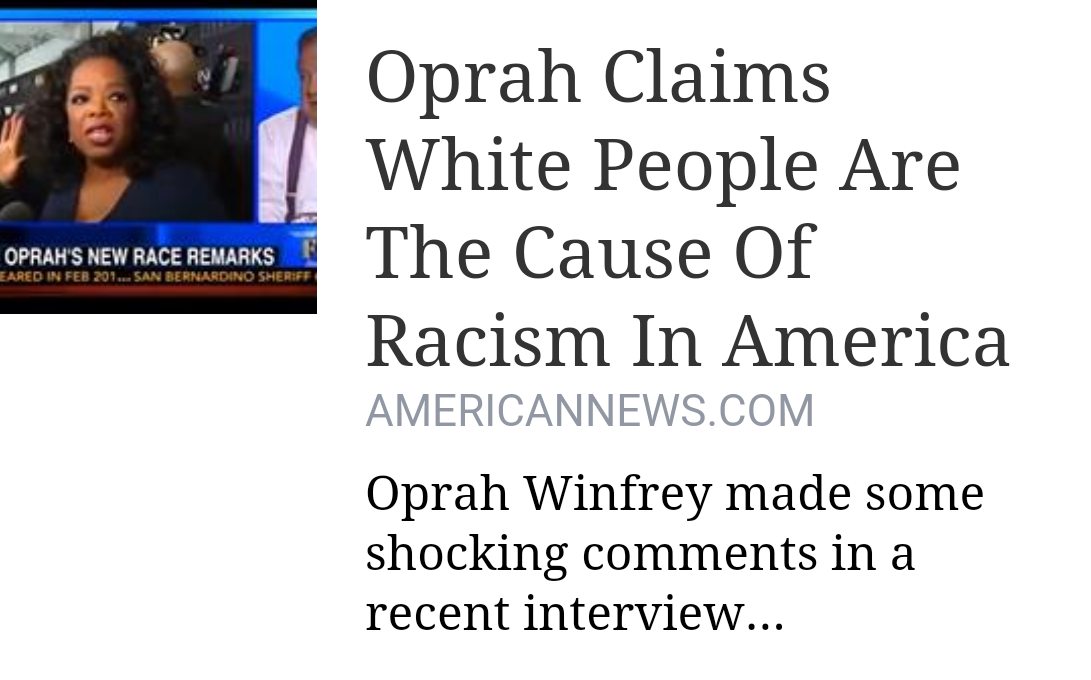 United States
March 2, 2016 3:36pm CST
The title is a lie. The piece didn't say that white people are racist. She said that many of the people who disapprove of President Obama are racist. I believe this to be true. Many Republicans in Congress admitted that they were told after President Obama's first election, they were to oppose, vote against, speak against ANYTHING that President Obama tried to do EVEN IF IT IS GOOD FOR THE COUNTRY! I believe this was because he is black. Oprah didn't say that "white people" have to die either. She stated that OLD people who were raised to be and lived their lives as racists need to die. She was implying that would help to put an end to racism in America and I agree! In my lifetime, I have seen more mixed raced marriages and mixed raced children born. Soon there will no longer be just black, white, red, ect. The new generations of multi-race people have changed the whole perception of race. Those of us who were never racist, like myself, along with the multi racial children will help to bring forth a new era where these old ideas of racism and hatred will finally wither away.
5 responses


• United States
6 Mar 16
The U.S. is bad but I still think that rasism and hatred is a GLOBAL problem. Unfortunately, the only way that I think the people of Earth will unite is if a greater danger threatens us, like in the movie, "Independence Day". In that movie, an alien race was trying to in enililate us.

• Philippines
6 Mar 16
@flpoolbum
You are right. There is always discrimination depending on what country you are in. For me, I just ignore it if being discriminated. Why should I consume myself in proving oneself, since some people will create a big deal issue and can never be answered by them. It is a matter of letting themselves being a superior among others.

• United States
3 Mar 16
Because you disagree with a person or think they are doing a miserable job doesn't make you racist. No integrity for actions, blaming others, fueling fires, and many other things you disagree with makes you not like a person because of their behavior and the things they do. If he were doing a fantastic job as president there would be few complaints.

• United States
6 Mar 16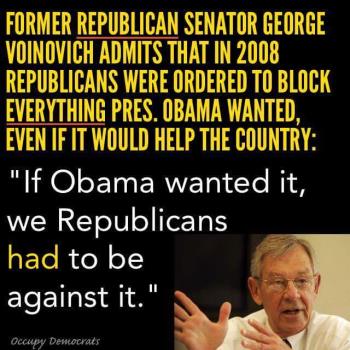 @OneOfMany
, According to most non-partisan reports and most historians, President Obama has done a great job in spite of all of the opposition by Congress. Remember, several Republican Congressman recently revealed that before he was even sworn in as President, they were told by Republican Congressional leaders to oppose everything that Obama proposes "even if it's good for the country".

• United States
6 Mar 16
@flpoolbum
The health care system is horrible (recent non-government websites are doing a great job at making what really should be the health system). The racial divide is horrible and a lot of his actions and comments led to that ("Treyvon Martin could have been my son"). International standing is disgusting because of his actions (remember the red line with Syria? After it was crossed and we did nothing, every enemy got emboldened). The debt is much higher. He doesn't listen to his military advisers (and fires tons of starred generals from the military). And what is he doing in California so much?


• United States
6 Mar 16
@Teep11
. One time President Obama was blamed for F.E.M.A.'s slow response after Hurricane Katrina. That happened in 2005. It just shows that we need to spend more on primary and secondary education and make sure that we encourage young people to stay in school.

• Calgary, Alberta
2 Mar 16
No way she will say something like that because her partner looks like a white guy and a large part of her fanbase are white.

• United States
2 Mar 16
After listening to what Oprah ACTUALLY SAID, people will know that it's a lie. Trying to incite hatred with a clearly inaccurate title to grab peoples attention, this is racism at it's worst.

• Garden Grove, California
3 Mar 16
I still hav e a bad taste in my mouth from that remark she stated that old people who were raised to be racist need to die. I know all m y friends here are elderly at the retiremet center and we were not raised as racists b ut to say one ;portion of our US has to die is sick no matter f they are raisist. ls that the way to settle problems just kill off those of us who do not think right? remarks about any part of the US that should die eis stupid and mean, Killing people does not s olve our problems