Jackfruit delight - ready and waiting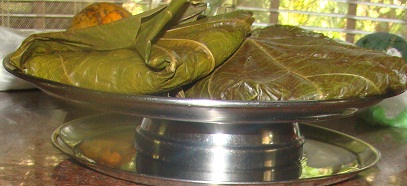 India
9 responses

• Singapore
3 Mar 16
I love the taste of Jackfruit and I wonder how your steamed Jackfruit delight tastes...is it sweet or savory? And I didn't know that was an Indian traditional food! We do have a traditional steamed cake here called pandan cake.

• India
3 Mar 16
We cannot write recipes here. It is a long draw process. What is the main ingredient of Pandan cake?

• Singapore
3 Mar 16
@allknowing
It's a steamed chiffon cake that's soft, sweet and fluffy. Its main ingredients consist of egg yolks, pandan leaf juice, coconut milk, sugar and flour.

• India
3 Mar 16
@Ladypeace
Interesting. What is panda leaf. I only know about pandas that one finds in cold countries (lol)



• India
3 Mar 16
This water moat is a regular feature here. Even when visitors turn up and there are a few goodies that need to be put back where they belong but at the point there is no time, we just place them on the moat without worrying. We too have many traditional dishes. Can you just name one.

• Switzerland
3 Mar 16
@allknowing
Something original from my native city in Italy, saffron risotto and breaded veal cutlets. I am going to make the veal for dinner.

• India
4 Mar 16
@allknowing
I am always'' delighted'' to eat Jack fruit delight.


• India
5 Mar 16
Good to hear that. These are traditional sweets.

• Bunbury, Australia
3 Mar 16
I like the idea of a water moat. Many years ago we stood the legs of the kitchen table in containers of water to stop the ants climbing on the table.

• India
3 Mar 16
But sweets could be kept in any part of the house. We have solved that problem by creating this moat.

• Aberdeen, Scotland
3 Mar 16
Sounds tasty, our traditional food here in is Scotland is haggis neeps and tatties

• Dubai, United Arab Emirates
3 Mar 16
We have something similar in our part of Kerala. It's called an Ela Ada, basically, a steamed crepe within a banana leaf. You can watch the recipe here.

Ela ada is an authentic recipe of Kerala . It is steamed in banana leaf and has a wonderful flavor. For ingredients & measurements, http://www.veenaskitchen....

• India
3 Mar 16
What we have is normally prepared in teak tree leaves. We do not have a teak tree and so we do it in fig leaves which are large and have their own colour and smell.


• Banks, Oregon
3 Mar 16
I have never tried jack fruit, but always make fruit salad on holidays.