Pray everyday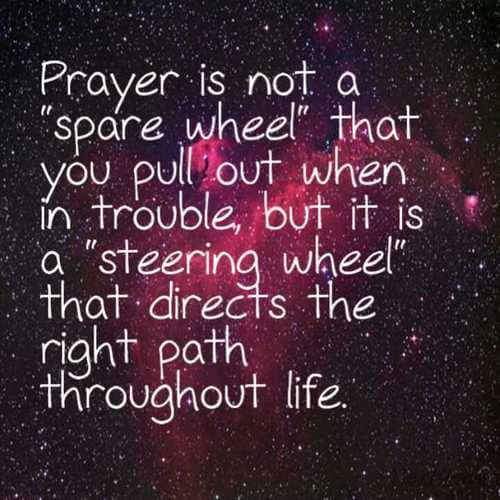 Luxembourg, Luxembourg
8 responses

• Philadelphia, Pennsylvania
4 Mar 16
My life is complicated so I am on my knees every morning facing East, although I am not Muslim. Who knows, kneeling in that direction may strengthen my prayers. Throughout the day I remind myself of "God's will".

• Ireland
4 Mar 16
@destimona
How very true. We certainly don't appreciate "friends" who only call on us when they need us, so why should God be any different? He's a friend, not a professional who we turn to when we have need of his services.

• Luxembourg, Luxembourg
4 Mar 16
Thoughtful.



• Luxembourg, Luxembourg
4 Mar 16
Great to hear that.




• United States
4 Mar 16
Let me recommend a wonderful web site: You can watch FREE videos and read many fascinating Bible-based articles about Prayer and other subjects. And you can do so in your own language, the language of your heart. I LOVE this web site and try to watch the new videos each time they introduce a new one. I think you will enjoy this site. What is the official language in Luxembourg?

Jehovah's Witnesses: Our official website provides online access to the Bible, Bible-based publications, and current news. It describes our beliefs and organization.

• Luxembourg, Luxembourg
4 Mar 16
Luxembourgish, French and German.

• Sweden
4 Mar 16
Yes, we have many reasons to thank our Heavenly Father and keep praying just as Jesus taught us, that God's name will be sanctified, that his Kingdom will come and his will be done in heaven and earth. I look forward to when we see God's will shall be done on earth, as the earth will be a beautiful paradise, like Isaiah 11 and Psalm 37 and many other scriptures describe. I also feel that I and many others need to constantly pray for strength to be able to cope during the hard times as long as this system of things continues. Prayer really helps!!




• Canada
4 Mar 16
That is a wonderful illustration about the what prayer is. That prayer is the steering wheel and not the spare wheel. I like the point too that we should pray not only for our needs but the more important things that Jesus mentioned such as the sanctification of God's name, the kingdom of God and his will, as well as giving praise and thanks.