How do you spell it?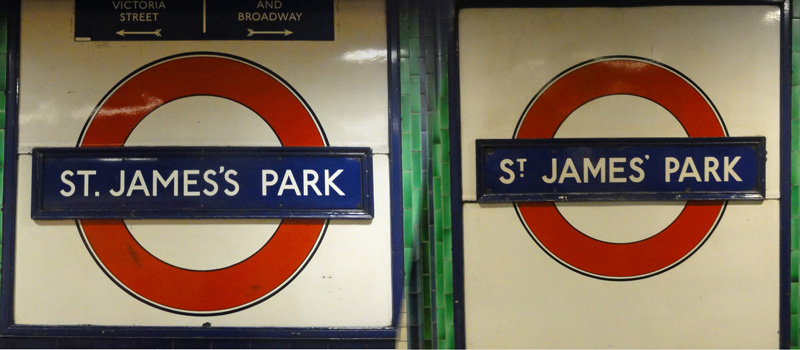 London, England
March 4, 2016 2:44pm CST
Not being the best of spellers, I find it reassuring when the establishment struggles as well. On my travels I have found several examples of spelling variations, but this one, on the platform at St James' Tube station, is my favourite. Having worked in the building on top the station, I saw it most days of the week. Good to know we are all humin... human.
10 responses


• Preston, England
5 Mar 16
there are many appaling uses of apostrophes like that

• Preston, England
5 Mar 16
@Ronrybs
lazy sign writing - surprised no one noticed before the sign went up

• United States
4 Mar 16
OH my goodness I am in utter shock that the British are misspelling things. I say.

Although it is not spelling to me, it is that dang apostrophe haha. I would say St James Park without any apostrophe.




• Saco, Maine
4 Mar 16
Actually, neither is wrong. The one on the right is the more common usage, as it's less clumsy. Here's a link that elaborates further on it.

Possessive Forms in English

• Saco, Maine
4 Mar 16
@Ronrybs
According to one of my sources, consistency is key. If you add the 'S in one place in your writing, it must be used in all following instances. Glad you got an answer to your question. I love grammar and word usage posts.



• Kolkata, India
5 Mar 16
The left one is definitely wrong. Apostrophe never comes before "S".

• Denver, Colorado
4 Mar 16
Proper spelling seems to have gone by the wayside.

•
13 May
@Ronrybs
We have people here from many English speaking countries that live here in Israel so we have different spellings of words here. Some spell it one way and others spell something another way.