Team Buffy The Vampire Slayer or Team Dawson's Creek?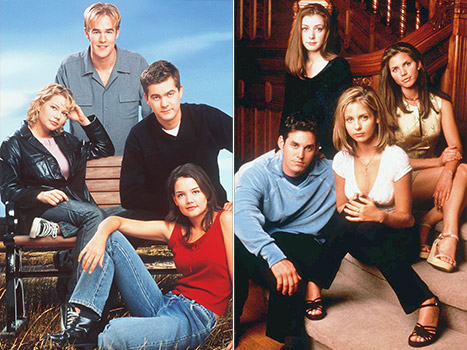 Coventry, Connecticut
March 6, 2016 1:54pm CST
When I was in high school, there were two types of kids: Those who followed Buffy the Vampire Slayer every Monday/Tuesday night, and those who followed Dawson's Creek on Wednesday night. About the shows: -Buffy The Vampire Slayer is a show that starred Sarah Michelle Gellar as Buffy. We watched her save the world from the forces of darkness, with her "Slayerettes" by her side. -Dawson's Creek was a show about teens who navigated the bumpy road of adolescence and relationships. I was team Buffy, as were my friends. What my friends didn't know was that I secretly watched Dawson's Creek on Wednesdays. It was not as good of a show as Buffy, unfortunately. Sound off: Were you a fan of Buffy, or did you favor the Joey-Dawson-Pacey love triangle on Dawson's Creek? photo credit: Hollywood News Daily
2 responses

• Philippines
6 Mar 16
I am definitely on Team Buffy! I don't like the love triangle plot with Dawson's Creek or maybe I am really just into vampires and slayers.

• Coventry, Connecticut
6 Mar 16
The whole triangle was too much drama for me. For 6 seasons she couldn't pick between two guys. If I had been in Joey's shoes, I would have said 'forget it. I pick myself!' Buffy was a feminist icon. She didn't choose a guy at the end. She was too thrilled with saving the world. Again. My kind of gal!

• Philippines
6 Mar 16
@ShaunaSilva
I agree. I'm not also into drama and all that teen romance in highschool. I like the action and girl power!