Timewaster Letters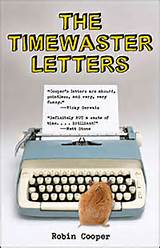 United Kingdom
March 8, 2016 4:21am CST
Before the internet became such an easy way to communicate with people by sending emails, we all used to send each other letters when we needed to get in touch. I was reminded of this when I found a book in a charity shop. The book is called `Timewaster Letters' and it was written by Robin Cooper. Throughout the book there are copies of letters that Robin has sent to various organisations. These include letters to various clubs and associations, most of which I had never heard of before. Robin often makes unrealistic demands in these letters but most of them get a polite reply from the people he sends them to. I found this book to be very funny and different from the sort of book that I would normally read.
10 responses

• Bunbury, Australia
8 Mar 16
I think I've heard of this book or of something similar. Letter-writing is just about a thing of the past isn't it?

• Chennai, India
11 Mar 16
My mother still writes to my son atleast once a month though they talk over phone everyday. He is three and I read it out to him. When I ask my mother why she does it, she simply says, its a great evidence to show his granny loves him


• Bunbury, Australia
11 Mar 16
@Scindhia
I am sure your son loves his letters, doesn't he?

• Chennai, India
11 Mar 16
@JudyEv
He loves those letters and has been saving them in a special drawer in our house.





• Canada
25 Mar 16
I don't have a set genre that I read. Some would call it a very eclectic mix.

• Garden Grove, California
21 Mar 16
he he I might look that book u p as t souds intrigug to me

• Chennai, India
11 Mar 16
I miss letter writing strangely. My father used to write a lot of letters during my graduation days!

• Boise, Idaho
9 Mar 16
Glad to see a writer that has a sense of humor and can walk away from the norm occasionally.

• Dollard-Des-Ormeaux, Quebec
8 Mar 16
That book sounds different. Glad you found it funny.