How is it that Welfare is only bad when it aids the poor?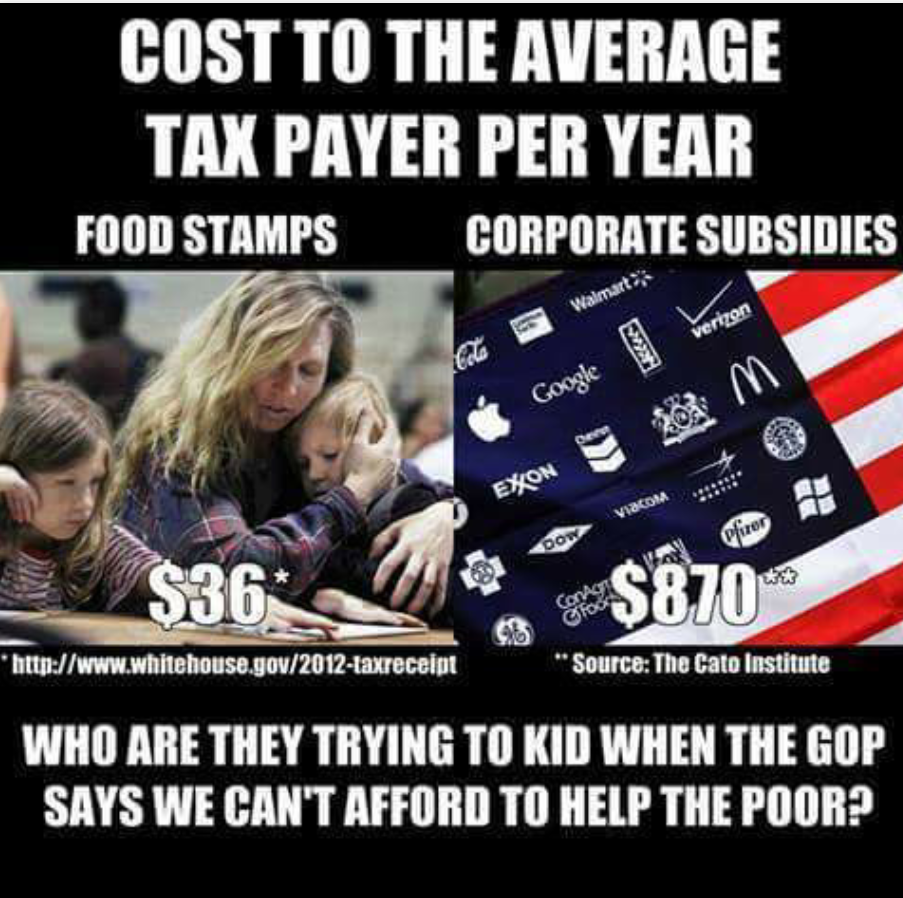 United States
March 8, 2016 6:31pm CST
How is it that middle class Republican's complain continually about the Food Stamp & Welfare programs, yet say nothing about the substantially more costly CORPORATE WELFARE! One article about corporate refunds that I posted on Facebook the other day, suggests that many corporations that don't pay any taxes were getting hugh tax refunds because of large loopholes in the tax code. That's our hard earned tax dollars being GIVEN TO THE WEALTHY! The refund for one major corporation could fund the Food Stamp program for an entire year.
5 responses

• United States
9 Mar 16
The complaint is in the fact that they are supported but don't pull their own weight. Also in some states the support system is messed up and the amounts they get are much more than they should. I think everyone should pay equally. Loopholes need to be closed up. In this case neither side is completely innocent and the whole thing needs to be remedied.

• United Kingdom
9 Mar 16
I don't think everyone should pay equally I think it should be an earnings based scale. If you earn a million per year and someone earns twenty thousand I think the million pound earner should pay a higher percentage.

• United States
9 Mar 16
@Mike197602
It depends on what they do with that income, whether it's just for survival or employment. If you take everything that is meant for business then you are crippling a business. If you are doing it as a punishment scale, then that's also a way to discourage people from earning more. Besides, the same percentage will pay higher the larger it becomes.

• New Zealand
9 Mar 16
Ah,trickle down economics. You gotta love it - especially if you're already at the top.

• United States
9 Mar 16
Well, yeah, but those bums on food stamps are just freeloading off hard-working Americans! They just want handouts! They'd rather make minimum wage flipping burgers than work hard to build the skills they'd need to get a better-paying job... you know, because fast food jobs are meant for kids in high school to work part-time and don't actually take any effort or cause stress for those who work them. Oh, and let's not forget those free Obama Phones they have! Freeloading bums couldn't possibly want those things so potential employers could call them. Nope, doesn't happen. /sarcasm You know what
really
pisses me off? The fact that everyone thinks that 100% of SNAP (food stamp) benefit recipients are lazy freeloaders. I've heard people say we should go back to the system of using obvious food stamps instead of discreet EBT cards that look like any other debit/credit card. You know, so people can tell who's receiving SNAP benefits and shame them in line for working 40 hours a week and not making enough money to feed their families with their wages. My mom shared a meme on her Facebook page today that ended with a comment about "If you don't want minimum wage, don't have minimum skills." Yeah, that's so easy. Those skills are just a dime a dozen, don'cha know...



• Philippines
9 Mar 16
That's the reason why some scammers in our country had been exposed. Most of the politicians were caught on fire for stealing the money of people in investing the budget to some charities in my country. It is only to find out the these charities are frontliners for having budgetary money from the government officials. At this moment, they are facing criminal cases.

• Greencastle, Indiana
9 Mar 16
that's the government for you that's how they work