Hamming it Up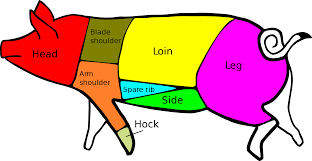 Saco, Maine
March 11, 2016 6:44am CST
I just responded to a post by @jstory07 about what she likes to include in her Easter dinners. I haven't made one in awhile, but my first choice was always a boiled ham. I don't care for glazed baked hams, as I almost always find them too dry, and I don't care for the sweetness of the glazed skin. My mother always boiled what are known as smoked shoulders, which are just that: entire cuts taken from the shoulder of the pig and which are cured and smoked. You can buy a fresh pork shoulder, too, which is roasted like any other pork roast. Other types of ham, including the spiral cut, are taken from the leg, and labelled as either butt or shank hams. When I cook a ham this way, I boil it twice, once to take a lot of the salt out of it, and then a second time with some vegetables. Some people also call this a boiled dinner, which can include potatoes, carrots, onions, cabbage and turnip. My family preferred always mashed potatoes with the ham, so I made those separately. And I almost always added corn as a side vegetable and maybe some coleslaw. I kept the first boiling water simple, but I also flavored the second with onion, celery and bay leaves. I didn't salt it, but I did add pepper. Many people don't realize that a typical smoked ham is already cooked, and all it requires is to be reheated either by baking or boiling. Boiling a ham produces very moist and tender meat that falls apart, and you can even save the bone to make pea soup with. I haven't made one in years, but I'm thinking of doing it this year if I can round up a few people to share it with. If not, I think I may still do a small one and enjoy the leftovers that can be used in lots of different ways. (Public Domain Image)
9 responses


• Saco, Maine
11 Mar 16
This is always moist, as it's boiled. People rave about spiral-cut hams, but I have never had one that I liked. The glaze is too sweet, and the meat is always overdone and dry and stringy. I much prefer boiled ham.

• Bunbury, Australia
11 Mar 16
This sounds scrumptious. Is it traditional to have ham at Easter?

• Saco, Maine
11 Mar 16
Yes, it is here in the U.S. Some people have turkey, or roast beef. But ham is generally the first choice. Corned beef is traditional for St. Patrick's Day, so those are showing up a lot in the markets right now.

• Bunbury, Australia
11 Mar 16
@Raelove
I don't think meals have much special significance here at Easter. Hot cross buns were the 'in' thing but they're now available for several months before Easter so the 'specialness' is no longer there.

• United States
11 Mar 16
@JudyEv
- ham is not the first choice for many. I have a bro-in-law who hates ham. We don't do traditional for any holidday.


• Lakewood, Colorado
11 Mar 16
OH yes treat yourself my friend, have a nice dinner. Hope you find a small enough one for you. I love the boiled dinners love them, nothing seems more satisfying to me.

• Saco, Maine
11 Mar 16
It's really old-fashioned comfort food. Thanks!


• Saco, Maine
11 Mar 16
I have not had lamb since I was a child, so we're talking 50+ years ago here. The thought of slaughtering a baby lamb is quite revolting, now that you mention it. I can do without it.

• Saco, Maine
11 Mar 16

• United States
11 Mar 16
I don't think I ever had a boiled ham in my entire life. We eat outside box, Easter dinner will be prime rib.

• Saco, Maine
11 Mar 16
I'm not crazy about prime rib. But I do love a good boiled ham. I even like a good canned ham if it's a high-quality brand name.

• United States
11 Mar 16
@Raelove
I like those in the can, but not my husband. He'll agree to one once in a while. We're beef eaters and it is not easy to separate a man from his prime rib.

• Saco, Maine
11 Mar 16
@AbbyGreenhill
Oh, trust me. I know what you're saying. My later partner was a meat eater in general. He loved all things pork, beef, chicken, turkey and ham. That included salt pork and lots of bacon, hot dogs, and all the junk meats. I might eat more beef if I could afford to. As for those canned hams, there is so much you can do with them, as they are all pure meat.

• Boise, Idaho
12 Mar 16
That smoked shoulder does sound good. I love ham! We usually had the ham that comes in a can. That was heated and potatoes thickened in white sauce with peas. I loved it. Only grams could fix it so delicious.

• Saco, Maine
12 Mar 16
I love potatoes in white sauce, and I haven't bought a canned ham in awhile.

• Saco, Maine
11 Mar 16
It is, and there is no waste if you use the bone for soup. Sometimes there's a thick outer skin of fat, but that's also why I boil it twice. The first boil gets rid of that fat and a lot of the salt. Then I drain it, add fresh water and boil it again with the flavorings and veggies. It's delicious.

• United States
11 Mar 16
That sounds really good. I love split pea soup.

• United States
11 Mar 16
My husband's favorite meal is a boiled dinner. This weekend we will have corned beef, also a favorite of his. I will have to try the boil twice method that you speak of. I don't enjoy overly salty meat and would try this if it will solve the problem. I have always enjoyed a good boiled dinner. I too have added onion, but no bay leaves or other seasonings. Of course pea soup is a good way to use up the meat scraps. I have a bone in the fridge which I am intending to use in a pea soup today. Bean soup is also good and I make that often too. My husband is not fond of either soup so I make enough to share with my children. They appreciate it.

• Saco, Maine
11 Mar 16
It's amazing how much less salty a ham is after you boil it that first time. I drain it well then add fresh cold water. I'd say that takes out 50% of the salty taste and gets rid of a lot of the fat, too. I love corned beef, too, and I like both soups you mention. I have also added a couple of whole cloves to the second cooking water for some extra flavor. Whatever works. In all cases, the meat is always so tender it falls right off the bone, so there is no slicing involved other than to cut the larger pieces up for serving. It's my favorite way to cook a ham.

• United States
11 Mar 16
@Raelove
Thank you for the idea. I am certainly going to do it with both the corned beef and Easter ham.

• Saco, Maine
11 Mar 16
@ElusiveButterfly
I think you'll like it. You'll get the pure taste of just ham without that sticky glaze.