Bring your Swimming Pool to 7-11 for a Slurpee!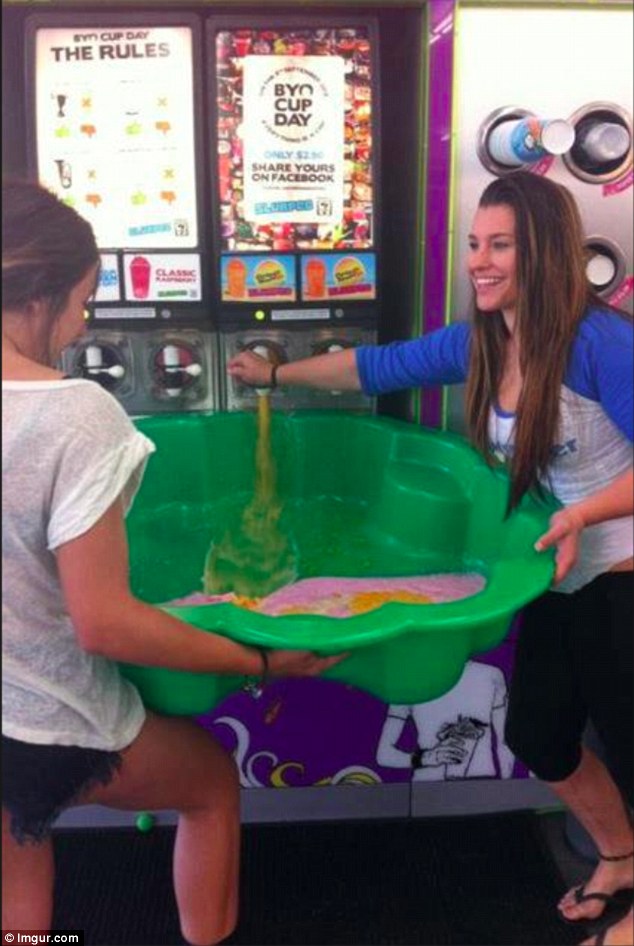 United States
March 11, 2016 1:44pm CST
I don't ever take part in these events because the lines are ridiculously wrapped around the store plus I'm not quite the fan of slurpees! However, it is always amusing to see what "cup" customers would bring in. This year there will be 2 days for this "Bring Your Own Cup Day" for $1.49 on March 18 & 19 from 11AM to 7PM. However there are some restrictions this year because in the previous years people would make/create/use the strangest cups like a swimming pool.

What cup would YOU bring?
Guidelines this year is the cup needs to be clean and food safe, cup must fit upright through a 10" hole, no leaks and one cup per person!

Slurpee Australia hosted it's annual 'BYO Cup Day' at 7-11's nationwide, where anyone could fill up a cup brought from home for only $2.60 all day.
9 responses


• United States
11 Mar 16
Must be a US thing, lol. I don't take part in this event though.

• Denver, Colorado
11 Mar 16
Huh. Never done this. I don't think I have a cup that meets the criteria.

• United States
11 Mar 16
You can bring any cup

And it'll be $1.49 or you can use their cup and pay that regular price lol. But I don't do these events either.

• United States
11 Mar 16
I do love Slurpees so I will bring the biggest cup in my cabinet. We have some whoppers in there.

• United States
11 Mar 16
Do you often go during these events?


• United States
12 Mar 16
LOL oh my gosh that is so funny and strange that someone actually brought in a swimming pool to fill with slurpee. The business would lose out so much money on that one. It would melt so much faster then anyone could even drink it out of a swimming pool. I'd say the $1.49 for a large cup is a good enough deal I wouldn't need to try to rip them off. The blue slurpees are good but most of the others have red dye so my children aren't allowed to drink them.

• United States
12 Mar 16
I don't often drink slurpees. The last time I recall was when I was in middle school and my friends and I would walk to 7-11 on the weekend with spare change. I was browsing through pictures of the funny and unique ways people bring their cups - and its interesting but mainly I think they want to be on publicity or perhaps win something because I agree - by the time they're done filling up your swimming pool.. It would have melted.

• Banks, Oregon
12 Mar 16
lol that's funny and, I love Slurpee's


• United States
12 Mar 16
It has been ages since I had a slurpee.



• United States
12 Mar 16
I too am not a fan of slurpees


• Philippines
11 Mar 16
why the hell would they put it and use it a darn pool?! wouldn't that be itchy and ants would get attracted to their bodies. that's just absurd, im glad they set the limits.

• United States
12 Mar 16
I think they're trying to be funny. Those pools are rather for babies and I hope they bought it brand new which is like $10.

• United States
11 Mar 16
Wow that sounds pretty fun! I would just take a huge plastic cup! But that does look like fun! A pool full of Slurpee would be to much for me! I would need to share it with other people. Blessings

• United States
11 Mar 16
Yes - if I had a swimming pool of slurpee I'd share with friends/family lol. That's just way too much for one. Hehe.

• Boise, Idaho
12 Mar 16
One cup per person. Then this one person walks out drinking the Slurpee. By the time, they get it drank they are at the end of the line and hand it over to the friend/family member and they get there's.

• United States
12 Mar 16

• Boise, Idaho
12 Mar 16