Why Some Birds Fly In Squadron?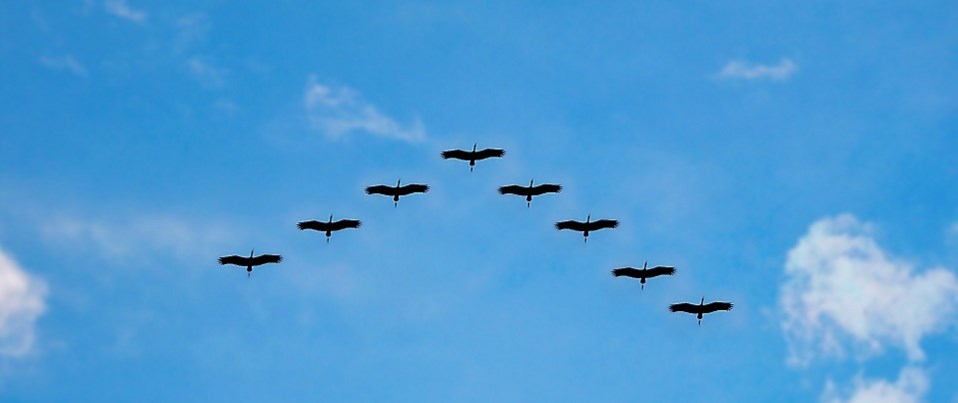 Philippines
March 11, 2016 11:31pm CST
Are you keen observer of anything you see? Are you not amazed of the wonder that a nature may offer you like birds fly in flocks? Others fly in a squadron? Nowadays, it is a season wherein cattle egrets flock in our rice or sugarcane fields. And I have observed when they fly in flocks they are in formation like a flying jets in a squadron. Why are they flying in group or in flock? Why are they in formation? Is their something that we could get from such behavior of those flying birds in group?
6 responses

• Banks, Oregon
12 Mar 16
They fly in flocks for protection is part of the reason and, like the say birds of a feather flock together, but yeah I love to watch them and, it shows team work.

• Philippines
12 Mar 16
I have to admit that I do loe ve seeing birds flying in a flock, in a squadron. It is entertaining for me. I forgot very reason why do birds fly in flock and fly in formation.


• Philippines
12 Mar 16
You sound to be knowledgeable about aviation. Are you a pilot? Have experienced studying in a flying school?

• India
12 Mar 16
may be following some discipline,or threat ,or some strategy to look for prey

• Philippines
12 Mar 16
I don't think so. These birds are travel too far. They are migrating so to speak to free themselves from extinction due to the weather.

• India
12 Mar 16
@dodoazo
but what is the secret of such formation,they may fly in other way if they are to save them self from extinction or migration

• India
13 Mar 16
I could say the same thing about ants. They go one behind the other


• Philippines
13 Mar 16
Every animals, every insects, every birds and fowls, they have their own distinct instinct especially for security, protection, and survival.

• United States
12 Mar 16
They are sharing the workload of flying. The trailing birds conserve energy by using the updrafts the lead bird creates. Geese will switch off to share the work. Here's an article about it:
We're sorry, your browser is not supported. Please update to a modern browser to view this page. Learn MoreSkip to main contentSubscribeMenuScientific AmericanSearchSubscribeSearchCloseSearchSubscribeCurrent Issue Sustainability Share on FacebookShare on T

• Philippines
12 Mar 16
Thanks for the info. Birds travel in focks are using their instinct especially in sharing the difficulty or hardship in flying so that everyone is being saved from further trouble.

• United States
12 Mar 16
I was on my way to get groceries at Walmart the other day. It is an hour drive. On the way there I saw a huge flock of birds in this formation up in the sky. It was actually really amazing because there were row after row of them flying like this. It looked like arrows. I wanted to pull over and just watch them and video it with my phone but I didn't have time. It really was something neat to see. Amazing.