Are Mid-Life Crises Now Happening Quarter Life?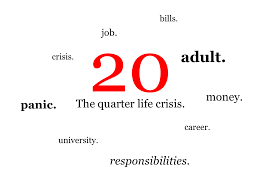 Mumbai, India
March 12, 2016 8:57am CST
Increasingly, with the fast paced corporate lifestyle and watertight career pressure, young professionals and entrepreneurs are facing, what should be there mid-life crisis if anything, at 25. The prospect of a sabbatical seems to dwell on your mind before you even enter the professional corporate field? Is there any way to beat this? Several theories have been expounded to avoid this fashionable mid-life crisis; cultivation of an interest, the importance of exercise in daily life, yoga and its 'shanti', biannual vacations and what not. But what is that really delays these or even better, completely avoids these? To my mind, happiness in your workplace ranks as the primary. Especially in a globalised and progressing world, where non-conventional jobs seem to draw even more salaries.
1 response