Free Poems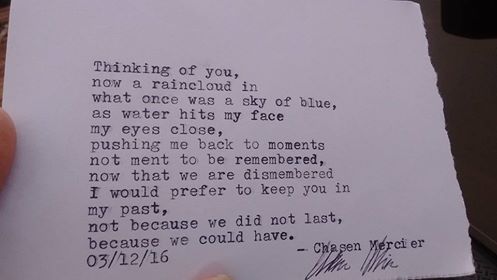 Hemet, California
March 13, 2016 2:34pm CST
After the Farmer's Market, my husband and I walked around Old Town Temecula and we encountered a young man (late teens, early 20s) sitting at a desk with an old typewriter churning out poems and allowing people to take them for free. We took a couple, and of course tipped him, and I really loved them. He wrote them all that day, and we were truly impressed. I can only post one picture. This was the poem I picked up. Chasen Mercier, you are a true talent.
5 responses


• United States
13 Mar 16
What a lovely thing that young man was doing Colene! He is great! And how kind of him as well to do so free. Nice he could make a few dollars too with this. A lovely poem.

How are you doing my friend? Okay?

• United States
13 Mar 16
@cpefley
Glad to know you are getting well now Colene





• Eugene, Oregon
10 Aug 16
Pretty impressive poetry for churning those out like that.

• United States
1 Jun 16
What a beautiful poem! Very nice!