My parrot has laid an egg!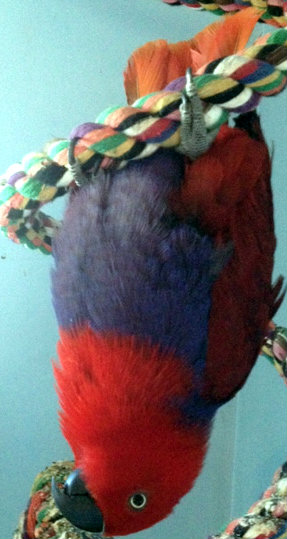 United States
March 13, 2016 3:46pm CST
This morning when I went into her room to check on her, she was in the bottom of her cage huddled over something. That's when I knew what was up. She had laid an egg. In another day or two we will have another. They are unfertilized because there is no birdie boyfriend in the house. I really wish she would knock this nonsense off. Laying too many eggs depletes hens of calcium and can cause serious health issues for them. I don't want it to get to that point for my girl just because she thinks she is supposed to be a mommy. Stay tuned for egg #2. The above picture was taken by me and is my own property.
6 responses

• Garden Grove, California
13 Mar 16
she is gorgeus so beautiful great pkoto I had not realized parrots could lay eggs shuld have of course she is a b id lol.

• Cambridge, England
13 Mar 16
@NJChicaa
Chickens do this all the time, so why not parrots?

• United Kingdom
13 Mar 16
I've never tasted parrot egg.

• Garden Grove, California
13 Mar 16
hi mke wonder what twold taste like ? lol

• Philippines
13 Mar 16
Nice picture, so what are you planning to do? It would drive her nuts if she thinks she's gonna be a mom and might sit on the eggs forever but she might also go nuts if you try to take it away for her health and hygienic reasons..

• San Fernando, Philippines
14 Mar 16
I wish I had a parrot too. Mine I have chicken but no eggs yet hehehe.

• Bunbury, Australia
13 Mar 16
She has no control over the number of eggs she lays. All female birds lay eggs and they will lay them even if there is no male around. They usually lay a 'clutch' of whatever is normal for the species so some lay only 1 egg, others may lay a lot more. She is just following her instincts.

• Cambridge, England
13 Mar 16
You can't expect her to 'knock this nonsense off' any more than you can expect girls not to be antsy and need sanitary accessories at certain times of the month! I can only suggest that you make sure she gets the extra calcium (sounds rough, I know, but her own egg shells, properly cooked and ground up will help there).