Do you like my kitty?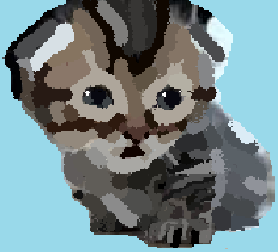 Kent, Washington
March 13, 2016 8:40pm CST
I painted this cute little kitten using Microsoft pain, a few years ago. I originally painted it for a series I was doing on my Bubblews account. After that site went bad, I also stopped doing these paintings, despite the fact that I really enjoy making them. I have quite a few that I can share now, but I also think I want to start making new ones. I can also paint you a picture, if you request it. I can do just about anything, including; a photo of your cat, a painting of you, a famous scene from a movie, or a space-traveling ninja that fights potted plants. You request it and I'll paint it.
7 responses

• Bunbury, Australia
14 Mar 16
That's pretty nifty. Cute little kitten. Do you have a 'real' cat? Virtual ones are less trouble.



•
14 Mar 16
It looks like a puppy and at the same time a cat, or it's just my eyes


• Kent, Washington
14 Mar 16
A 'puppy-kitty' would be a good challenge to draw

•
14 Mar 16
@AtraiuTheCat
It is! Try it and post it here. That might confirm if I have problems with my eyes because the painting above looks like a puppy kitty but it is not.