Pesto and peanut butter making in a zoo

Moses Lake, Washington
March 14, 2016 2:08pm CST
Found the blender jar. Oh. No sharp bladed innards. Oops. Dug around. Found it. Removed Siamese from the cupboard. Need parmesan. Found the tub. Gently removed the Siamese from the bottom of the fridge. Piled kale into blender. Yelled at Siamese cause he yelled at our resident baby bobcat. Poured olive oil slowly into the blender as the kale and garlic and parmesan ground together. Ignored Sally pup as she nosed aside dog food from my offering of parmesan. I caved. I fed the baby bob cat and Siamese and patient Sonny J cat then peered into the blender jar. Slurped in a little lemon juice. Washed hands. Took a taste of the pesto. Green and tasty. I nudged Siamese Beau away from the stove door as I pulled the pan of hot, roasted peanuts from inside the stove. Soon as the peanuts cool, I'll pour them into the juicer and soon will have fresh peanut butter. All cats munching, Sally snoozing on the couch, I assemble a sandwich of pesto, ham and havarti. Time to close my eyes to whatever the furry crew is up to.
4 responses

• Banks, Oregon
14 Mar 16
Sounds pretty good, my fur balls are sleeping too. Ghost is getting slightly braver.

• Moses Lake, Washington
14 Mar 16

• Banks, Oregon
14 Mar 16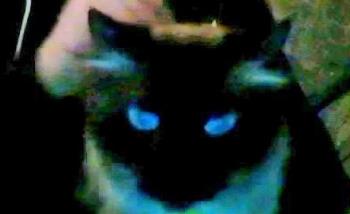 @sallypup
Here is a pic, he's white, but with a black face and, has stripes on his legs and, tail.

• Moses Lake, Washington
14 Mar 16
@TRBRocks420
I love the photo. Ghost looks like a Siamese. Siamese are smart kiddos.


• Moses Lake, Washington
16 Mar 16

• United States
15 Mar 16
Kale pesto? Not a bad idea, and a good way to get greens. Remember my post about exercise? You could write "cooking with cats."

• Moses Lake, Washington
15 Mar 16
Great idea,
@rohvannyn
. Yup. Kale and parmesan with parsley and olive oil and sunflowers and garlic and lemon. I can't quit eating the stuff. Addictive.

• United States
14 Mar 16
I wish I could have seen the goings on in your kitchen!!! Love those fur babies!

• Moses Lake, Washington
14 Mar 16
@Corbin5
Our Siamese boy was adopted from an animal shelter. I will always wonder what his early months were like. He is very social and yet he is quirky. I would enjoy you being with us.