Ten Commandments - Tenth Commandment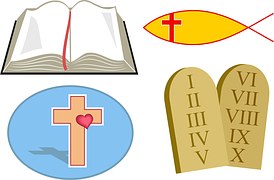 Green Bay, Wisconsin
March 14, 2016 8:34pm CST
Tenth Commandment Raise your hand if you love watching commercials other than on Super Bowl Sunday? Okay, you can put them down. That is if you actually did raise your hand. What is the purpose behind all those commercials? Isn't it to make you want something, to keep up with your neighbors, and be just like everyone else? The last commandment addresses this issue. Exodus 20:17 Thou shalt not covet thy neighbor's house, thou shalt not covet thy neighbor's wife, nor his manservant, nor his maidservant, nor his ox, nor his ass, nor any thing that is thy neighbor's. (KJV) In other words, be satisfied with what you have. If you live in a nice house, in a nice neighborhood, drive a nice car, have food on your table, clothes on your back, and a bed to sleep in, what more do you need? Yet there are people out there who believe they NEED more. They will go to any lengths to get what they think they need, often times getting into some serious trouble doing so. Crimes involving theft and robbery of every sort is seen every day. One of the biggest advertisements you hear about today regards Identity Theft. People will go to any lengths to get what you have, even hacking your information to get it. God said we are not to covet – want so badly we will do anything to get it. Paul said he learned to be content with what he had. Philippians 4:11 Not that I speak in respect of want: for I have learned, in whatsoever state I am, therewith to be content. 12 I know both how to be abased, and I know how to abound: every where and in all things I am instructed both to be full and to be hungry, both to abound and to suffer need. 13 I can do all things through Christ which strengtheneth me. (KJV) Nobody likes to suffer from hunger and want, and we need to do what we can to take care of those things. God expects us to work for the things we need. Ephesians 4:28 Let him that stole steal no more: but rather let him labour, working with his hands the thing which is good, that he may have to give to him that needeth. (KJV) God will supply us with everything we need. Philippians 4:19 But my God shall supply all your need according to his riches in glory by Christ Jesus. (KJV) When we rely on God and his promises to us to take care of us in every situation, there is no need to steal from anyone. God gave us that commandment because he knew how tempting it would be to want to be just like our neighbors. Satan does all he can to promote those thoughts and actions. When we follow those thoughts and actions, we often land in trouble, and to our regret, hear Satan laughing at our trouble. Don't give Satan anything to laugh and gloat over. Be content with what you have and not look with longing at what everyone else has. It will save you a lot of trouble and time in jail as well. Image courtesy of Pixabay
4 responses

• Philippines
15 Mar 16
I don't watch the super bowl but I know the tenth commandment. I am contented with what I have, and I am not envious of anybody's property. I watched the news last night, and a female bank manager was placed on hold-departure order because she allegedly stole big amounts of money( in dolars) in her bank. even though she claims she is innocent, the evidence is there.

• Green Bay, Wisconsin
15 Mar 16

• Philippines
15 Mar 16
@just4him
true, but when the suspect was interviewed, she was crying so much that we the viewers would think she is innocent, but the evidence does not lie.

• Green Bay, Wisconsin
15 Mar 16
@ridingbet
People will do all they can to manipulate the situation so we change our minds even though the evidence is clear.

• Philippines
15 Mar 16
I don't have the chance to spend time watching Super Bowl. I am aware of the 10th Commandment. I had seen some of what committed such sin. But then, I ignored and let them know what is right or wrong. Eventually, they figured out the great impact of the sin to their lives. Thus there is no turning back for them and they need to face the consequences.

• Banks, Oregon
15 Mar 16
I didn't raise my hand, but I also believe God will supply us with anything we need.

• Green Bay, Wisconsin
15 Mar 16

• Ireland
15 Mar 16
I think this the most unique commandment out of the 10. It deals with thoughts as opposed to actions, all other 9 deals with actions. I have always gone after what I've wanted and worked for it. I have "got" what I wanted, only to realise it's actually not what I needed. Often times, we really have no foresight, if what we desire is actually good for us. We have no idea what tomorrow may bring. We also have no idea what's the final "outcome" of getting what we want. So I guess it's good to spend time appreciating what we have.. at least that's what my interpretation of this commandment.

• Green Bay, Wisconsin
15 Mar 16
That's a pretty good assessment.

• Ireland
15 Mar 16
@just4him
I also think, covet an intense desire for a thing.. is a strong and difficult to ignore feeling. But the more you covet, the more miserable you get. It also lead you astray from things that mattered. you might end up exchanging irreplaceable things such as Family, Friends, Love, Health, Honour, Loyalty, and Affection.. for a bunch of stuff you really didn't need.. like Power, Status, and Prestige. Lesson I've learned.

• Green Bay, Wisconsin
15 Mar 16
@Drosophila
True, but in the sense of the commandment it's gaining things from wanting them so much you go out of your way to have them, and that's wrong because the method you use - an adulterous affair, stealing, taking what doesn't belong to you, all violate God's as well as man's laws.