Photo Proof – The Flying Spaghetti Monster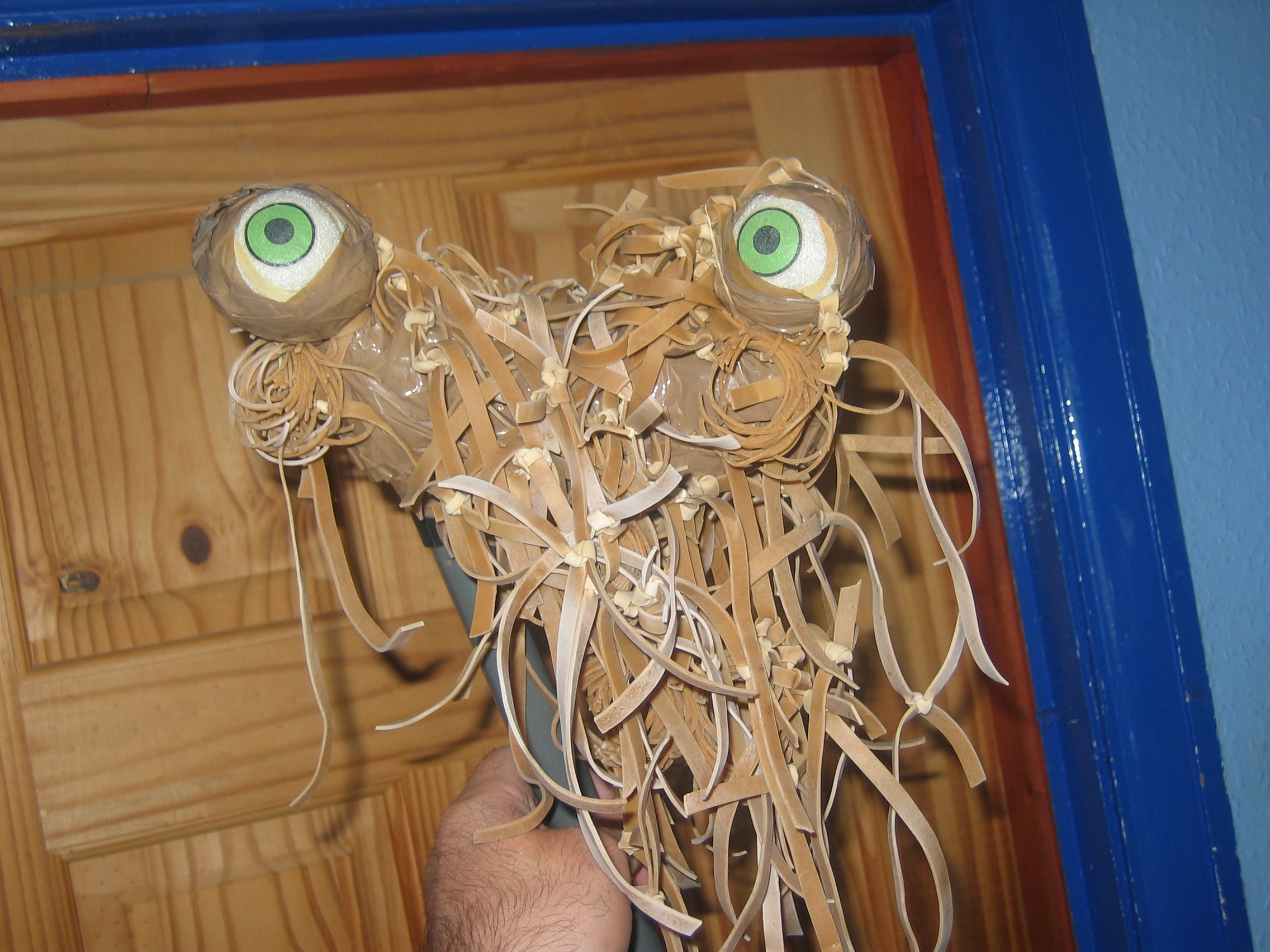 Preston, England
March 16, 2016 4:24am CST
People doubt the existence of The Flying Spaghetti Monster (FSG) but here he is in all his Pastafarian glory. Ramen! I didn't invent the FSG. It owes its invention, or rather its discovery, to Bobby Henderson, a US atheist who promoted its ideology in 2005 as a backlash to Christian creationists who were demanding that their anti-Darwinian teachings be taught in school science classes in Kansas. Henderson declared that his beliefs in the FSG therefore also merited inclusion in the curriculum. FSG teachings suggest that the universe is the creation of an invisible flying Spaghetti Monster with meatball eyes, stretching his noodle appendages across the universe and touching us all. Henderson claims that the FSG beliefs were secretly promoted throughout history by pirates and that as piracy was suppressed on the seas, FSG teachings were forgotten, and global warming increased too. Critics see this as an unlikely coincidence. Henderson's original letter to the Kansas creationists was posted on the Internet where it was picked up on as a spoof religion by various adherents who added their own FSG theories and took up every opportunity to dress as pirates in doing so. My FSG effigy is not made of spaghetti or meatballs but a discount store dog toy wrapped in thousands of hand crafted elasticated rubber bands and stuck on a brush handle. He travels with me when I go pirating – parroting FSG theory, aaarrr! There are rival theories to those of the FSG pastafari. One school of thought takes Bertrand Russel's notions of an invisible pink unicorn to be the true faith instead and promote it as ninjas rather than pirates. Some say the apocalypse will come of a clash between the two mighty deities and their armies / navies of pirates and ninjas. I will be there with the pirates, Jim Lad. Aaarrrr! Arthur Chappell
9 responses

• Niagara Falls, Ontario
16 Mar
Not quite what I expected to open my eyes to this morning, .

• Preston, England
16 Mar


• Preston, England
16 Mar
I could disprove the shed let alone the unicorn - are you sure its not a my little pony with a plastic horn stuck on with glue?

• Manchester, England
16 Mar
@arthurchappell
I wouldn't know. It's invisible. I can sense it's pinkness however!!

• Preston, England
16 Mar
@WorDazza
so it could be Peppa Pig - she's pink.



• Preston, England
16 Mar
@gudheart
the FSG is generally regarded as indifferent or benevolent unless he encounters the unicornites as their struggle will lead to the Apocalypse as demonstrated in this song

Flying Spaghetti Monster vs Invisible Pink Unicorn


• Preston, England
16 Mar
think of him whenever you eat a bolognaise, Ramen!


• Manitou Springs, Colorado
16 Mar

• Bunbury, Australia
16 Mar
Well, I guess it takes all sorts!

• Centralia, Missouri
18 Mar
I would much rather all methods of creation be taught simply like. 'This is X method of the origin of things. It is called X, and what it means is..." Down to people who believe the world was carried around on the back of a turtle!

• Preston, England
18 Mar
At least those who thought the World is carried round on a turtle could inspire a writer like Terry Pratchett

• United States
16 Mar
I am so glad the FSG travels with you when you are out and about! There is safety in pasta!

• Preston, England
16 Mar
Superstring theory is really about strands of spagetthi

•
16 Mar
Indeed, it is a flying spaghetti monster!