My cat can't decide to go in or out

March 18, 2016 12:42pm CST
I wish he could put his leash on himself because he really interferes with my mylot time because he wants out and 15 minutes later wants in and 5 minutes later wants out again but gets scared of the mail truck and comes back in and then wants out again. Cats are weird.
8 responses

• Bunbury, Australia
19 Mar 16
I wouldn't have the patience to put up with continually letting him in and out. Scar's lucky I'm not his pet.

•
19 Mar 16
There are some days he's horrible about it, I literally want to scream 'MAKE UP YOUR MIND!'


• Bunbury, Australia
19 Mar 16
@JolietJake
Have you ever tried tethering him and leaving him outside. I suppose that's inviting danger or accidents. You're very patient.

•
19 Mar 16
@JudyEv
He doesn't want to stay out on the lead. He sits and howls at the door until I let him in. I've tried ignoring him, but he is LOUD.

Strangely enough, it is at night and during the early morning that he will go out and just sit in the yard for an hour or two...it's like he's waiting for the squirrels to show up or something...


• Lakewood, Colorado
18 Mar 16
Yes cats are strange creatures but so lovable. I hope to have a cat one day JJ. We are not allowed animals here at this place unless we pay a rental fee for them every month and on top of that a hefty deposit.

•
18 Mar 16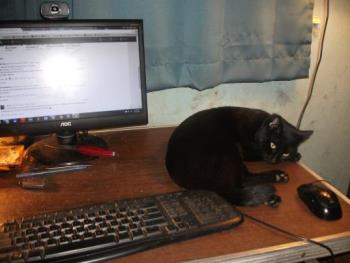 Scar makes sure I don't forget him while I myLot...

• Lakewood, Colorado
18 Mar 16
@JolietJake
They love to be near and to be warm and toasty..the little love he is your buddy no doubt.

Do you have a printer? I once lived in a house with a cat that messed non stop with the printer lolz


•
18 Mar 16
@TiarasOceanView
I had one with buttons on top and he was always turning it on and printing test pages



• United States
19 Mar 16
I have never tried to walk a cat on a leash. Was it hard to train your cat to get use to leash?

•
19 Mar 16
I actually thought Scar wouldn't like it at all, he's pretty hyper, but I sat with him a few minutes, he tested his limits (it's a 20 foot lead) and then everything was fine. It's on a stake in the yard, the end will reach into the house about 6 ft inside the door, I just clip it on him and open the door to let him out (or back in).

• Los Angeles, California
18 Mar 16
No, cats are just independent minded and often act on whim. He'll calm down and snooze for awhile leaving you in peace.

•
18 Mar 16
If he'd learn to snooze when I do, it'd all be good, but no, he has to sleep all afternoon and then start wanting out at 2:30 in the morning, and that dude is LOUD.


•
19 Mar 16
Maybe Scar was a girl in his past life.


• Centralia, Missouri
19 Mar 16
the thought of a cat on a leash is weird