Skip's First Day Home ...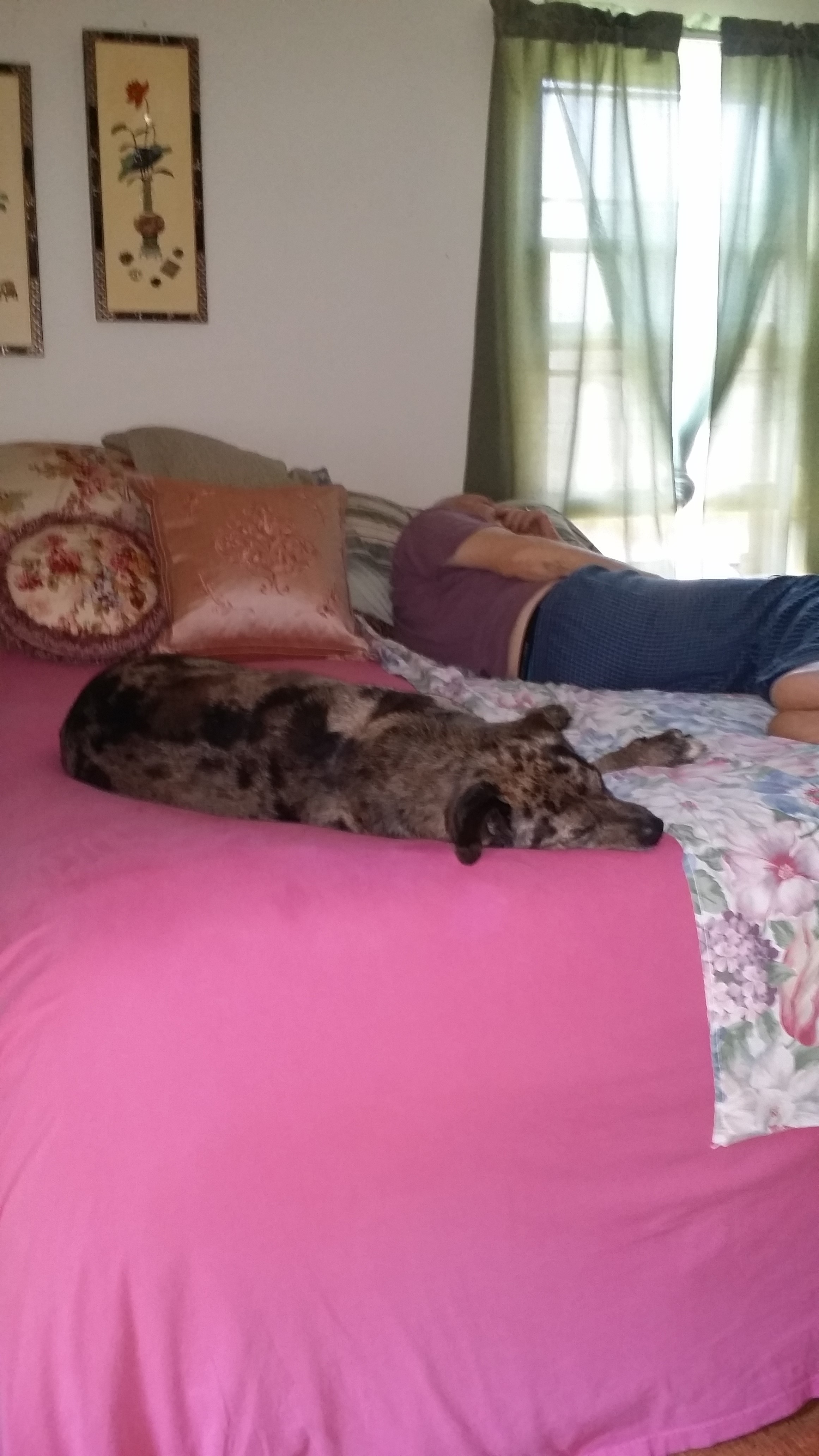 Louisburg, North Carolina
March 18, 2016 6:34pm CST
I brought Skip home yesterday. He had 2 stents put in, not one. He is still in a lot of pain from the ordeal he suffered when he had a groin bleed. The pressure they had to apply is what caused him to hurt. It'll take a while to get over it. It's going to take some time to get over all he's been through. Since January, Skip has almost died. I know life is very fragile. So many of my family members have died ... I am so thankful Skip is here. I called the the doctor today, talked to the nurse. She told me to grab him a mask when he comes on Tuesday, and not to let him touch magazines, anything. There are viruses going around right now. She also, to monitor Skip closely, get him to the hospital if his breathing was different, or swelling. I have an eagle's eye on him. Thank you all for caring so much, giving me comforting words. They have meant a lot to me. I send hugs to each of you. Today, I raised windows in the bedroom knowing Skip likes that, make the bed, pillows comfy for him. I turned on the little fan to make a comforting sound. The birds were singing, wind chimes chiming ... curtains moving with the breeze. I knew when Skip went to his bathroom ... he'd see the bed, hears the relaxing sounds ... he'd want to lay down there.

10 responses

• United States
18 Mar 16
Prayers of comfort and healing being sent right now! So glad Skip is home with you now. Seems like you have set things up to make him as comfortable as possible.

• Louisburg, North Carolina
19 Mar 16
Yes, I am always watching to 'see a better way' to make things good, comfortable for him.


• Garden Grove, California
18 Mar 16
And th e doggie was glad to see Skip back I send more Prayer for you all that Skip just gets better and better wlth less and less pain I know it will take tie of course much good luck for you both from hatley

• Louisburg, North Carolina
19 Mar 16
Hatley, I thank you from my very Heart.


• Canada
18 Mar 16
You have a lot on your plate. Your positive attitude has to help Skip as well. I get to keep an eagle eye on my elderly father.

• Louisburg, North Carolina
18 Mar 16
Love keeps us like that, very protective


• United States
19 Mar 16
I am so very sorry to see Skip laying there, I mean I am glad he is home with you, but to see him down like that is sad for me, though I only know you here. Yes life is very fragile, and when these serious things happen, we know it even more Gloria. I know you are taking excellent care of him. Please let him know that there are many people he does´t know praying for him and his full recovery. What an ordeal he has been through. I wish you love and encouragement my friend both of you. Thank you so much for keeping us posted.

• Louisburg, North Carolina
19 Mar 16

• United States
19 Mar 16
@GrannyGee
Welcome Gloria


•
19 Mar 16
If I have a magic wand, I will use it to take the pain away from Skip.

• Louisburg, North Carolina
19 Mar 16
That's precious, Rina. I can feel you would do that. Thank you for your words.





• Bunbury, Australia
19 Mar 16
I'm glad Skip is home. He is where he wants to be and hopefully will get stronger every passing day.