Shortocuts in the kitchen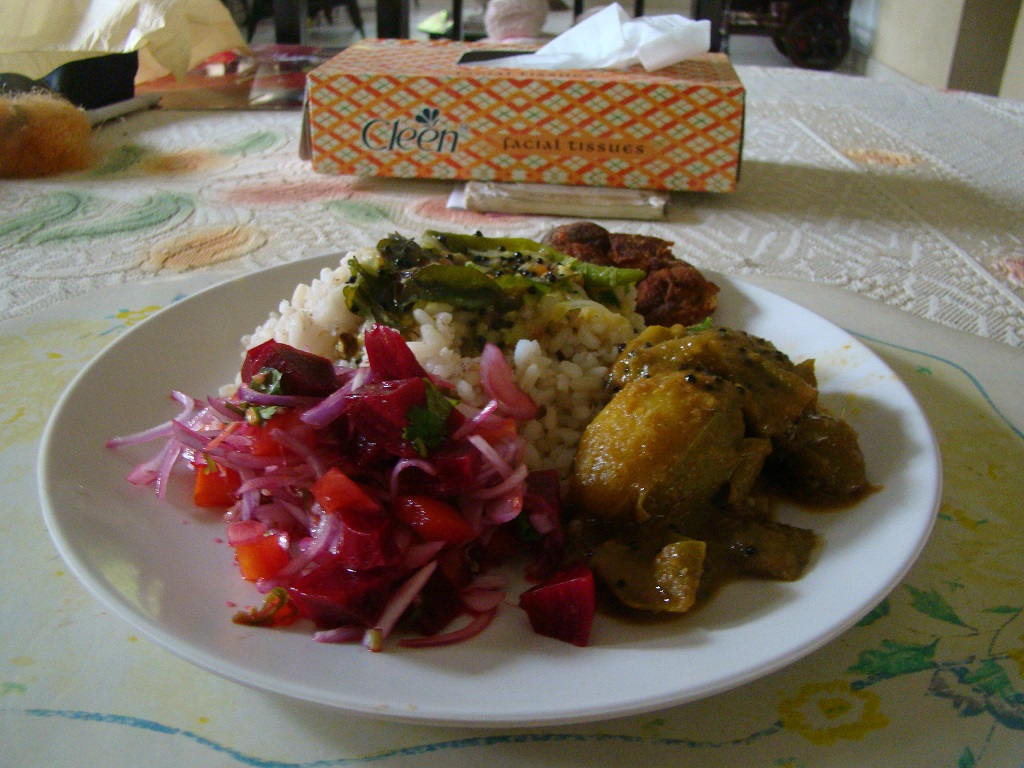 India
March 24, 2016 7:31am CST
Getting domestic help here in India has become rare unlike in the good old days when I hardly got into the kitchen. But now it is a different story. I spend a lot of time there with just a little help. . I have resorted to shortcuts in the cooking arena in that our maid will grind masalas of different types that I keep them in the deep freeze and this will last for over a month. Then there are recipes that hardly take any time without compromising on quality and taste. My instant chicken is one example. I just cut the chicken into large chunks and fry the pieces in ghee garnish (fried onion slices) till liquid oozes out. Add chopped onions and tomatoes - a good quantity. Cook on slow fire. Add, salt spices, pepper powder and garnish with deep fried potato slices. I cook a substantial quantity so that it can be eaten at different days in the week. Eat with cooked rice and some salad. How do you manage without help.
10 responses


• India
24 Mar 16
Yes. I have heard about that. In India we have a different system. In the good old days there used to be a full time cook, someone to do the top work and a gardener. They are not available these days. So we including most here have cut down on so many things in that even entertaining house guests and stuff has come down greatly. We too cook may be thrice a week.

• United States
26 Apr 16





• India
26 Apr 16
Eating out is fine occasionally. I prefer simple home cooked food on a daily basis.

• United States
24 Mar 16
In the USA, having a maid would cost far too much for most of us, me included. So, we do everything ourselves around here.

• India
26 Apr 16
In India having a maid is common

• Canada
24 Mar 16
I've never had much help in the kitchen -- though sometimes my sons did some chopping when they were home. Your dinner looks delicious.

• United States
24 Mar 16
sounds yummy! uhm, help? i aint ne'er 'd any help 'round the house so's can't comment'n such. i bet this's been quite'n adjustment fer ya though.

• United States
25 Mar 16

• India
25 Mar 16
@drannhh
I have said this before. Most households in India have had this kind of help.

• United States
25 Mar 16
@drannhh
rofl, yes ma'am! always've been 'n no doubt that'll change :D

• United States
25 Mar 16
I do simple meals that i can handle like steaks, burgers, mac n cheese, pastas etc. I like quick and easy meals if i can. I don't mind being in the kitchen longer with more prepping meals either.

• United States
25 Mar 16
My mom and both grandmothers and many of my aunts were "help" before I was born and they told me two things: (1) we all worked hard all our lives and we want you to have a better life, and (2) no matter how well off you become you must never hire "help" to do your work. That would be like an insult to the memory of them. So I have never paid anyone to come in and help with cooking or cleaning, but I do buy labor savings devices because for my own health and that of those who eat with me it is important to have fresh food rather than things that come in boxes and cans, and fresh food does take more preparation.

• India
25 Mar 16
We are brought up differently. Even my mother had help in the kitchen. But I admire all you people who manage your kitchens without any help