Uncomfortable conversations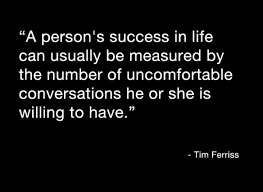 Pune, India
March 24, 2016 8:51am CST
Quite often in our life we keep avoiding an uncomfortable conversation, just because we either think that this is not the correct time or we do not want to hurt the feelings of others, or it could potentially lead to more uncomfortable conversations. This uncomfortable conversation could be with your parents, your spouse, siblings, or your friends. These uncomfortable conversations could be mainly on relationships, money, love, desires or difference of opinions. Sometimes we just cannot gather enough courage or motivation to get into this uncomfortable conversation. I personally try to dodge this conversation, until it reaches a point where it cannot be further left untouched and sometimes I feel we should break the ice and get into those uncomfortable conversations as early as possible. Do you like to face those uncomfortable conversations or you try to avoid it?
10 responses

• Lenox, Georgia
24 Mar 16
I avoid uncomfortable conversations because they usually lead to confrontation. I hate confrontation and I avoid it like the plague!

• Lenox, Georgia
24 Mar 16
@avi256
Oh absolutely I never said I am brave!

I never want to hurt anyone, I don't like when people are mad at me, and I hate fighting. I am definitely a peace keeper, and I like that about myself.

• Pune, India
24 Mar 16
@LovingMyBabies
You are so honest and you know your emotions.



• Toccoa, Georgia
24 Mar 16
I stay away from uncomfortable conversations.

• Galati, Romania
2 Mar 17
I really, sometimes, want to keep those uncomfortable conversations because it may help me in a certain way. But almost all the time I don't keep them.

• Galati, Romania
2 Mar 17
@avi256
That's very true. And point that sometimes in our lives we have to tell our childrens those things. Those type of conversations

• Zamboanga City, Philippines
6 Apr 16
I always avoid conversation about religion to my best friend (We don't have the same religion). I'm afraid that if we will talk about it we may say hurtful things or may offend each other. :(

• Zamboanga City, Philippines
6 Apr 16
@avi256
Yaps, and whenever there where times we need to talk about it, we just respect each others opinions, so that it wont ruin our friendships. :)




• Greencastle, Indiana
24 Mar 16
it depends on the conversation & who's it about or what's on other wise I would either get in on it or just let someone else take over the conversation over & not bother with it at all. but since I don't talk to anyone I don't have that problem

• Pune, India
24 Mar 16
I would give a scenario where a mid age father wants to tell her daughter who is somewhere around 25 years old, that he wants to get married to a 22 year old girl. Now this will surely be uncomfortable for a father or that 22 year old girl to confront it to the daughter.


• Bhopal, India
11 Jun 16
Probably no one would love to get in such situations .. But there are some we need to face ;)