Cat's playing with the cat toy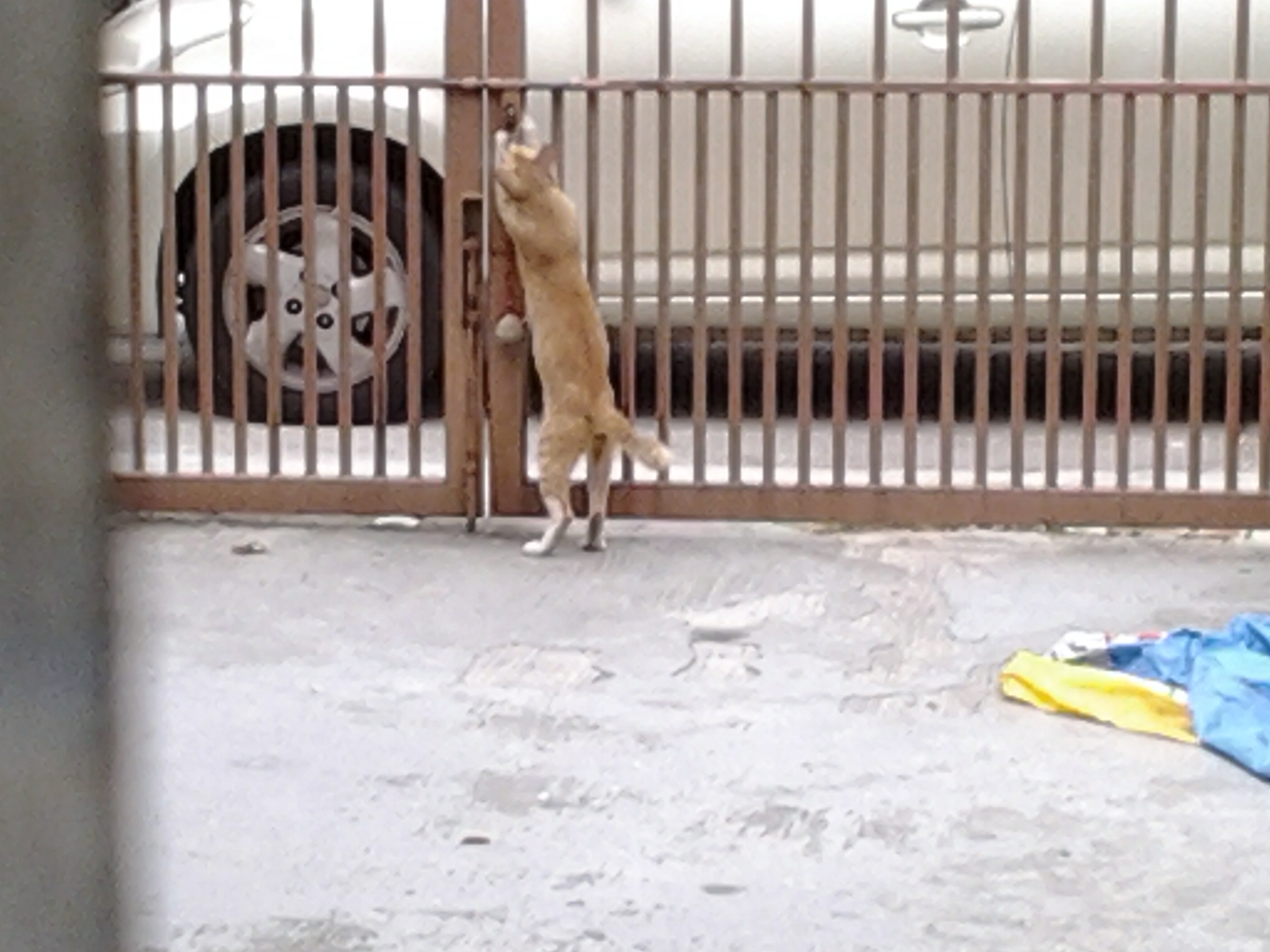 Malaysia
March 25, 2016 7:26am CST
When I was working in this early morning, I heard some bell ringing sounds. I went and took a look, and saw the yellow stray cat that always comes to my house playing with the cat toy hanging at the gate. When I saw the cat toy online, I always wanted to make one as it's really cute. Last year, a kitten came to my house, so I crocheted the cat toy for her. As the kitten ran away, my children hung the cat toy at the gate. I was really happy to see the cat playing with the cat toy. At last, it became an useful cat toy now. Do you have a cat at home? What toys do the cat play?
10 responses

• United States
25 Mar 16
This is beautiful photo Lee! She looks skinny the cat lolz I am so glad she found the toy you made her. I do not have a cat


• Malaysia
27 Mar 16
Is she skinny? I thought she's normal size, I am not sure. Actually this cat doesn't really belong to us, she's a stray cat that goes here and there in the neighborhood. But, lately she has always been coming to my house, especially when she sees my children playing in the front yard. My children were very happy to find out the cat played with the cat toy!


• United States
27 Mar 16
@kaka135
I would also be very happy..I think she look skiiny because she is stretched out lolz


• Singapore
25 Mar 16
One of my friends is a cat lover. She uses the standing fan as a toy for the cats to play. She will tie a piece of string to the standing fan, and when she switches on the fan and makes it rotate, the string will blow to left and right. The cats have a great time chasing after the string.

• Malaysia
27 Mar 16
That's a good idea! It must be really fun to see the cat playing with the strings. I can imagine the cat will be really exhausted after playing.

• Madurai, India
27 Mar 16
We had a cat way back when I was a kid. It loved playing with the ping pong ball. Dashing it with its feet too and forth, it would chase the 'enemy' at deadly speeds across the hall and into the living room. Those were the days!

• Malaysia
31 Mar 16
It's good to hear that. My son was trying to play a small football with the cat, but the cat was not interested. I told my son that football might be too big for the cat. Perhaps we should try with a ping pong ball, we have plenty of them at home now. My children will be very happy to play the ping pong ball with the cat.


• United States
27 Mar 16
Aw that is very cute - the cat toy is now useful for the stray cat. I don't have any pets.


• Malaysia
27 Mar 16
Yes, I am happy that the toy does entertain someone. I have always been thinking of making bird feeder too. Previously, there was a bird building a nest in my front yard. Now, another bird is coming to build her nest now. Though I don't really have pets, it seems like they like to come to my yard. Perhaps my yard is very messy and looks like a jungle to them.


• United States
27 Mar 16
@kaka135
Hehe or maybe your yard is welcoming hehe

• Philippines
25 Mar 16
Nice that even that cat is benefited by your handicraft! I am allergic so cat's hair so I have no cats at home.

• Malaysia
27 Mar 16
Sorry to hear that you are allergic. So, you can't get near to any cats, can you? Yes, it's good to see the cat toy is entertaining the cat.


• Philippines
27 Mar 16
@kaka135
No I can't get near and am really avoiding them to avoid the allergy.

• Fairfield, Texas
25 Mar 16
Out of the 12 cats that I've had for a long time
@kaka135
they rarely play with a toy for more than a minute and then it's forgotten about.

• Malaysia
27 Mar 16
I always thought cats like to play with toys, but this is the first time I saw cat playing with this cat toy that I made. You must be a cat lover. I can't imagine having 12 cats!


• Fairfield, Texas
27 Mar 16
@kaka135
They are a handful that's for sure.

• Philippines
25 Mar 16
Cats are really playful. We have this scratch post at home with toys and my kittens used to play with that. But my new kitten doesn't know how to play with it. She prefers the spool of thread to play with.

• Malaysia
27 Mar 16
I was thinking if cats would love to play with a ball of yarn, as I have some yarns at home. But it'd really become very messy if I let the cat play. It seems like spool of thread is fun too!

• Philippines
28 Mar 16
@kaka135
Yes, I think they like that ball of yarn. That's what I used to see in children's books, that cats play with balls of yarn.



• Malaysia
27 Mar 16
It's good to know that. Perhaps I should hang more toys for the cat to play with. My children used to just hang some strings on the gate, and the kitten in my home liked to play with the strings.

•
25 Mar 16
We have dogs but not cats, though I see stray cats at times. I don't see them playing with toys.

• Malaysia
27 Mar 16
I seldom see the stray cats playing with the cat toy as well. I used to wonder if this is really a toy for cat. Now, I see the cat is playing with it!

I'd love to have dog as well. Perhaps a few years later....


• United States
25 Mar 16
My cat Princess has a ball that appears to be crocheted from sparkly crinkly stuff and it rattles. There is a feather sticking out of one side. We throw or roll the ball for her and she chases it.

• Malaysia
27 Mar 16
That's so cute of her! I don't know cat would chase for the ball as well. Perhaps I'll try that next time.