What Are Christian Countries Are Doing in Lenten Season?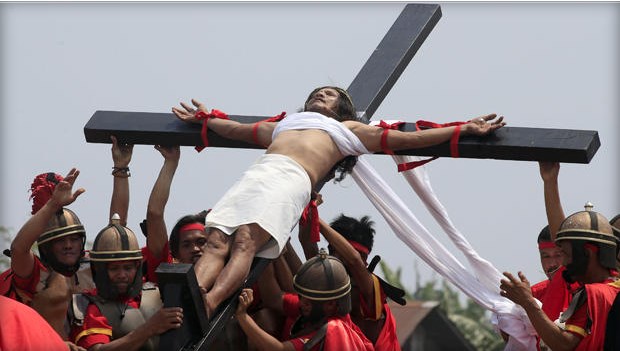 Philippines
March 26, 2016 8:41am CST
Our country is one of the devoted Catholic countries. Everywhere in our country is observing this Holy Season which seriously takes off on Palm Sunday. We call it in our dialect as "Domingo de Ramos". The major activity is enacted by a real-life execution of penitents who volunteered to be nailed on the cross. This year 2016, there are 15 persons who are nailed on the cross, coming from different provinces in the country. The most time they stay on the cross is 5 to 11 minutes. Some of them were already nailed on the cross for 30 times. After a religious ritual, they are taken down from the cross and bring to the first aid tent for treatment of their wounds caused by the stainless nails. What do you think they are doing? One penitent has claimed to do it for 8 years. He is doing that for he is sick and once he does it he is healed. He has never stopped doing it every year for he is afraid that he might get a relapse of his sickness. Reference: Photo credits: Reuters/Romeo Ranoco

CITY OF SAN FERNANDO, Pampanga -- Local and foreign visitors flocked to the crucifixion sites here on Good Friday to witness the reenactment of the passion and death of Jesus Christ.
 
 The spectators, unmindful of the scorching heat, trooped to a
6 responses


• Philippines
27 Mar 16
I don't like that practice, but they enjoy and feel "blessed" by the act, so let them be! The "crucifixion" was included in the National Geographic's edition of "taboo" practices.

• Philippines
27 Mar 16
Whatever it is. Those people who nailed themselves on the cross are affected by the "taboo" practices. As you said it is their feeling of "blessedness". We should respect their practice.

• United States
29 Mar 16
You mean the entire Philippine country is all Catholic Christians, there are no other people following any other religion ?

• Philippines
30 Mar 16
nope. There are other religious denominations aside from the Catholics.

• Philippines
2 Apr 16
@enlightenedpsych2
That's alright. I just missed the qualifying statement. But it is for sure most of the people here or the Filipinos are Christians. But not all Christians are reenacting the execution of Jesus Christ on the cross.


• United States
26 Mar 16
I did not realize that this was actually real nail to the cross in your place there Nocturnal. I do not know of anyone that does this over here ... There are services just Mass, but no nailing to the cross.

• Philippines
26 Mar 16
Since one volunteer said that he has been doing it for 30 years already, meaning it started sometime in 1986. That is there "panaad" or covenant for what they have made when they felt ill and by fulfilling it they get healed.

• United States
26 Mar 16
@dodoazo
Yes I understand it is for healing to keep healthy. It gives me the shivers I would be afraid to do so friend.

• Philippines
26 Mar 16
@TiarasOceanView
I am afraid of blood. I don't know if I could resist watching the person being nailed on the cross. He even shouted for the pain. He really suffered for 11 minutes before he was brought down from the cross.


• Canada
12 Apr 16
Here there are not even Easter themed movies playing on tv anymore:/

• Philippines
12 Apr 16
Have you not read that it is the tradition of those penitents to be nailed every Holy Friday? Who can stop them? Even the Catholics and the government couldn't stop them.