Our Neighborhood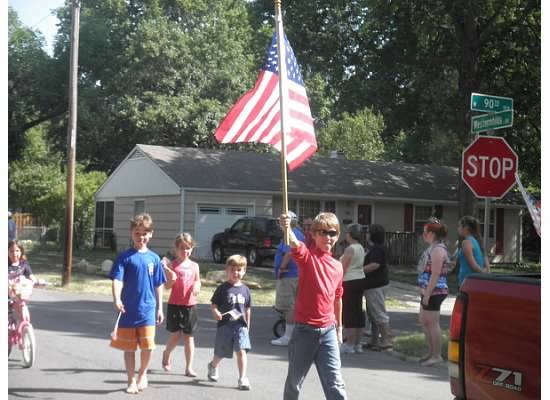 March 26, 2016 10:39am CST
We moved into our neighborhood nearly 14 years ago. At the time, I had two children, a two year old and a six month old. Initially we chose to rent our home because we fell in love with the backyard. The fenced in yard was huge compared to our previous home, perfect for two little boys. In those early days of motherhood, I wasn't thinking of the fact that we lived in a bad school district or that there weren't a lot of young families in the neighborhood. I was so busy that I didn't really give it a lot of thought. We were content with what we had. As the kids grew (and our family to five children instead of two), I started wishing for neighborhood friends for both them and me. On one side we have an older, childless couple; on three sides we have retired old people; and catty corner we have a single unfriendly police officer. Yet, we'd occasionally see kids. Around first grade or so, my oldest did befriend a little second grade boy named Kahleed. He was a cute kid who came over quite a bit for awhile. Eventually, he outgrew my boys who preferred to play pretend in our backyard to his video games and cable tv. At some point, my boys befriended a boy named Jake who was right in between their two years apart ages. He initially was drawn to Nolan, my oldest, but eventually seemed to be equally good friends with both. He came over quite a bit . Then when my oldest son died at the age of 13, he was over all the time which was so good for my 11 year old son. Obviously, he didn't replace Nolan, but it was good for Liam to have someone to spend time with. I'd say they remained pretty close friends for another year or two. Then, at some point, they just drifted apart as friends sometimes do. My 9 year old son has lucked out and found several neighborhood friends. There seem to be a few younger families in the neighborhood now with kids around his age or younger. My five year old daughter was actually invited to a little girl's bday party today in the neighborhood. so there are potentially some neighborhood friends for her as well. I was thinking of my 12 year old daughter who has never had a neighborhood friend. I know she would love one. (Just like I would!) But the one thing she does have is little kids to babysit. She's been babysitting for about a year now for one family. And today she was asked to babysit by another. So even though she lacks a neighborhood friend, she has a source of income which is pretty cool for a twelve-year old. Personally, I have a few acquaintances in the neighborhood, but none I can call good friends. It's only been 14 years.... so maybe someday. ha ha.
9 responses

• United States
26 Mar 16
It is nice to have neighborhood friends for you all Jilly. It is a sense of some community also. Our lives have been as such that we have never been in one place long enough to do so. It is fine we get along.

• United States
26 Mar 16
I began babysitting at 13 years old. Its nice to earn your own money. I am now placing as many older people in my rentals as possible, seems like less drama. But I know what you mean about the kids, I raised a nephew and there was no kids for him to play with.

• United States
28 Mar 16
I don't usually get to know my neighbors, except for a friendly wave once in a while, my hubby if the social one.

•
29 Mar 16
that's about it for me too, the wave, if that! we have some just very unfriendly people in our neighborhood. and i'm shy. so maybe they aren't unfriendly, but they aren't welcoming. and when you are shy like me, you need welcoming!



• Roseville, California
29 Mar 16


•
27 Mar 16
sadly, the family she babysat for yesterday is moving.

• Canada
26 Mar 16
We have three couples out in our village that we would consider to be "good" friends and that we will go out for dinner with or spend time with at each other's homes. But none of them are really in what I would consider to be walking distance, all about 1/4 mile away. The immediate neighbours to us are not what we would want for friends. But like my husband reminds me, neighbours are just the people next door.

• Winston Salem, North Carolina
26 Mar 16
When we first moved to NC we rented a house with no neighbours except our landlady. In Montgomery my kids had "best" friends right next door (I use quotes because they were best friends because of proximity rather than truly being kindred spirits. My kids have tried to keep in contact with them since we moved but it's been pretty one-sided. At our current home we have younger kids next door, but no one the ages of my girls so most of our friend activities involve driving...

• Roseburg, Oregon
29 Mar 16
That is good your one son has a friend and the 12 year old is making some money.

• United States
29 Mar 16
We don't have any friends in our neighborhood either. I do have family that live near us though.