Easter Egg Painting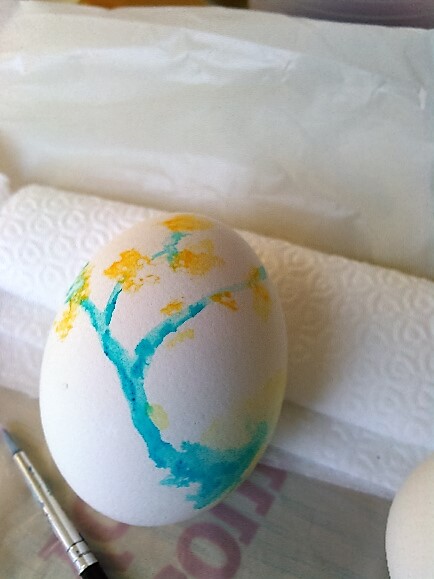 United States
March 26, 2016 4:41pm CST
Today, I spent the day painting Easter Eggs with my girls. I decided to do oriental egg painting with tree blossoms while my girls colored and stamped away at theirs. It was a lot of fun as I wanted to try tea painting but it was really taking a long time as you have to paint then dry, paint then dry... in layers. I gave up on an egg because the stain takes a lot of layers for the color to start showing.However, it would be something one could do on paper. This was one of my first eggs. Did you do any Easter Egg painting with your children? What other fun things do you like to do for the holiday?
7 responses

• United States
26 Mar 16
I think you did a great job on that egg. It is a beauty. So delicate looking. When our son was little we would poke the raw egg with a needle on both ends then blow out the contents. When the eggs were dry, we would color them with dye and hang them on a tree. Glad my grandmother did that activity with me and it was fun to pass it down.

• United States
27 Mar 16
I'm thinking about blowing some eggs out, painting them and then glazing them.

• Banks, Oregon
26 Mar 16
Happy Easter and, the eggs turned out very nice, also I sometimes still do with my mom and, nieces and, nephews.

• United States
27 Mar 16
That's great that you still do it sometimes.

•
26 Mar 16
I don't have children. We didn't have easter egg painting here at my parents' house. This is my first time to stay with them on Easter. I have no idea of their plans for later.

• United States
27 Mar 16
I hope you have a nice Easter with your parents.

• United States
26 Mar 16
those days are gone for me.Yes,we used to do this.So much fun and time with the family

• Wausau, Wisconsin
26 Mar 16
Yeah we did but forgot to use crayon on them before we colored but the eggs came out stripped on their own lol

• United States
27 Mar 16
Lol my one daughter was the same. She dipped the eggs in and then realized she never drew patterns. They still turned out nice.

• Boise, Idaho
26 Mar 16
The egg is lovely. We usually go in more for just coloring them in different ways, no painting. That is an interesting idea though.

• United States
27 Mar 16
I so a craft video of tea art painted eggs and it gave me the idea. Of course it was more of pattern art than what I did but I really like oriental art so I gave it a go.

• Centralia, Missouri
27 Mar 16
honestly, nothing, my only thought this morning was ugg, I have to wake up to get ready for work