Is This Necessary?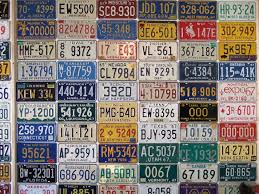 Saco, Maine
March 29, 2016 6:38am CST
The latest development on the Maine legislative scene is that people who buy vanity license plates for their cars may now be allowed to create so-called risque messages on them. From what I got out of the news segment, the only thing Maine law prohibits is anything of a violent nature. So the news commentator told everyone to "use their imagination" as to what some of the content might be. Does it ever end? Even at the legislative level, all decorum seems to be lost. And I'm trying to figure out just who will benefit from this. I'm guessing that this will rack up more dollars for state coffers, as some people will willingly pay more to post something obscene on their license plates. Which means that parents with kids in the car who see something like this will have even more explaining to do. It's bad enough to have this trash on bumper stickers and decals, but on license plates? I give up. (Public Domain Image)
10 responses

• Los Angeles, California
29 Mar 16
Yep, it's all about the money. Ever increasingly greedy government. Your elected officials probably want a raise.

• United States
30 Mar 16
Governmental employees do not get the money. None of it goes to them. It pays for the programs they run. Who benefits from those programs? Sometimes it is people like you and me. I don't like greed, but in this case, the description does not fit.

• Los Angeles, California
30 Mar 16
@ElizabethWallace
So they claim the money goes to programs but we know it doesn't always. Don't forget the infamous $16 muffins in DC.


• United States
29 Mar 16
Anything for the almighty dollar..it never ends.

• United States
30 Mar 16
It doesn't make sense that official obscenity would be allowed.

• Saco, Maine
30 Mar 16
I'm not sure just how far they'll allow the "risque" content to go. Time will tell.

• United States
31 Mar 16
@Raelove
It would be nice if things would become a little more between the lines. I fear a big turn around which would not be healthy for the country. Extremes are dangerous.

• Saco, Maine
31 Mar 16
@ElizabethWallace
It's almost like there's a mission to do as many shocking things as possible. Like people are bored with things as they are, so they have to shake them up a bit. I'm old-fashioned. If it ain't broke, don't fix it!



• Saco, Maine
29 Mar 16
This is America, Land of Anything Goes. I think plates should just be numbers and nothing else. I've always thought that personalizing them is silly and unnecessary. But it generates money, and here, there are some who'll try anything to get it.

• Saco, Maine
29 Mar 16

• United States
29 Mar 16
what are they aiming for.Money?

• Saco, Maine
29 Mar 16
Of course, Fredo, what else? It's just like when they legalized fireworks in the state in many areas. LePage said it was to raise more revenues for the state. It's always about money!


• Saco, Maine
29 Mar 16
Makes me wonder how much lower there is to go.

• Djibouti, Djibouti
29 Mar 16
I believe that there will be a limit about how "risqué" the plate can be, fixed by the administration. We have no vanity plates here, but I think that it would be a good idea and that we would find some people wanting to pay for a thing like this

.

• Saco, Maine
29 Mar 16
We already have vanity plates here of all types. So it's not like people have never had that privilege. My personal opinion is that a number on the plate is good enough. I've driven behind cars whose plates are indecipherable, so whatever they were trying to communicate was lost on me, and probably others as well.

• United States
29 Mar 16
I imagine some that would be viewed as 'obscene' won't be approved. Actually just went to the site: "The Secretary of State may refuse to issue a vanity plate that consists of language that is obscene, contemptuous, profane or prejudicial; promotes abusive or unlawful activity; falsely suggest an association with a public institution; or is duplicative."

Skip First Level Navigation | Skip All Navigation Home | Bureau Home | More Online Services SERVICE INFORMATION RELATED SERVICES Due to scheduled maintenance, online services may experience intermittent periods of downtime or slowness during July 14, 2008

• Saco, Maine
29 Mar 16
Thanks! Let's hope they adopt this policy. It's that word "may" that can sometimes be problematic.

• United States
29 Mar 16
This is not needed unless their budget is so far in the hole they cannot see out. They are bankrupting their morality for a few pennies. I can appreciate your concern.

• Saco, Maine
29 Mar 16
It will be interesting to see just what kind of garbage they will allow. It will be some time before this takes effect, as most people who register cars often use the same plates.

• United States
29 Mar 16
Ferengi Rules of Acquisition 10, 41, 97, 202, and 242, specifically. What's a Ferengi? Go here: The USA can safely be called a Ferengi Nation. Full Rules of Acquisition here: http://www.sjtrek.com/trek/rules/

The Ferengi were a warp-capable humanoid species from the planet Ferenginar. Ferengi civilization was built on a caricature of free enterprise, where earning profit was the sole meaningful goal in life, superseding all other endeavors. The Ferengi governin