A Moment of Perfection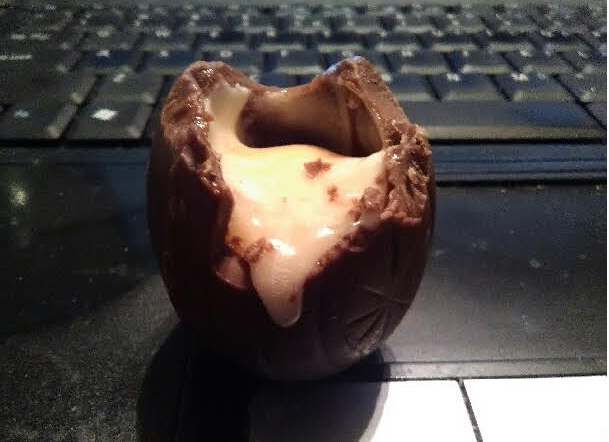 United States
March 31, 2016 1:59pm CST
I have given up most junk food and candy bars to prep for my Appalachian Trail hike; since it has been delayed I decided to spoil myself a little with a Cadbury Egg. I usually have dreams about these amazing treats and will pick through the whole basket of them to find one with the perfect egg shape. As I bit into the top of it I was glad that it wasn't filled to the top of the egg; the center is gooey and sticky and not all that furniture or finger friendly. It didn't take much to get the foil off of it, there are times when the center leaks out and makes it almost impossible to get the foil off. My moment of perfection came when I needed to put the egg down but had nothing clean to put it on. Then it struck me, I needed a makeshift egg-cup. Since I had nothing even close to that within arms reach I put it on the never-used mouse track pad on my laptop. Much to my surprise, it stood up perfectly and the chocolate egg shell did its job of containing the fondant goo. What do you love about Easter candy? Do you enjoy Cadbury eggs? Are you addicted to jelly beans? Photo: Me
10 responses


• Bunbury, Australia
1 Apr 16
If I were in a shop at that time, I'd be stocking up too!

• Carthage, Tunisia
31 Mar 16
Cadbury's Creme Eggs are too sweet for me, the sugar makes my teethe itch... Funnily, I got one for my daughter, she asked if it was possible to get Cadbury's chocolate in the USA - I guess, the answer is yes!

Skip navigation UploadSign inSearch Loading... Close Yeah, keep it Undo Close Watch QueueQueueWatch QueueQueue Loading... Watch Queue Queue __count__/__total__ Loading... Find out whyClose morricediver SubscribeSubscribedUnsubscribe2828 Loading... Loading

• United Kingdom
1 Apr 16
Cadbury is american now as mondelez bought them

Nothing seems to stay british these days


• Carthage, Tunisia
1 Apr 16

• United States
1 Apr 16
I just love a Cadbury bar or any of those!


• Colorado Springs, Colorado
31 Mar 16
The Cadbury eggs are really good, so I'll go with them.

• Colorado Springs, Colorado
2 Apr 16


• United States
2 Apr 16
Someone gave me a bag of the Jelly Belly jelly beans and I couldn't eat them - there were so many flavors I couldn't tell one from another and when I thought I had green apple it turned out to be something completely different. Too many flavor choices is dangerous for me LOL


• United States
31 Mar 16
I am a black jelly bean fan. No one else likes them so I have plenty for little old me!


• Bunbury, Australia
1 Apr 16
I bought myself some Lindor chocolate for Easter and enjoyed eating that over a few days. I'm not really into lollies.