The hedgehogs are awake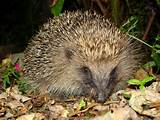 United Kingdom
April 3, 2016 4:02am CST
For several years, we have had hedgehogs living in the back garden. They have a hedgehog house at the bottom of the garden where they hibernate through the winter. We noticed that they had come out of hibernation last week when we noticed there were piles of poo on the patio. Then last night we looked out the window and saw one walking about. Do you have any wildlife living in your back garden?
5 responses

• Los Angeles, California
3 Apr 16
Don't have a back garden unless some potted plants in the courtyard count with a resident lizard. Here, in Southern California a back garden might get a gopher.

• Los Angeles, California
3 Apr 16
@millie02
I don't know if it's the same lizard. You don't have gophers in the UK?

• United Kingdom
3 Apr 16
@JohnRoberts
Not that I know of. Do they bite or are they friendly animals.?


• Philippines
3 Apr 16
I don't think we have a hedgehog in our country. I remember many years ago when our family bought a house, I used to find snakes in the garden and I would scream for my dad to get them.

• Philippines
3 Apr 16
@millie02
When I was 5 years old, I played with snakes hahaha. I have a friend in Ohio who breeds snakes. Sometimes he would send me pictures of the baby snakes coming out of their egg shells.

• United Kingdom
3 Apr 16