Science Fiction Short Story Review: "The Cuckoo Clock" by Wesley Barefoot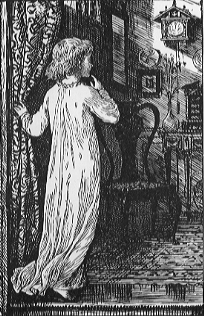 United States
April 5, 2016 7:38am CST
This little Twilight Zone-ish tale begins with the death of Jim and Jean Blair's daughter in a horrible car accident. The little girl apparently just fell off the curb right in front of a Chevy. The driver couldn't stop in time. Neither Jim nor Jean saw the accident, but Jean arrived just before the ambulance. What made this worse was that it followed of the deaths of their two sons, Michael, who drowned; and Steven, who fell off a water tower. The only one left was Johanna, whom they'd adopted. Her divorced mother died in a car accident a few years earlier. Jean explains to a weeping little Johanna why Marian can't play with her anymore. At that moment, the cuckoo jumps out of the clock to announce the hour. Jim begins to wonder. Later, he goes searching for records of Johanna's mother. These turn out to be more difficult to find than they should be. What I didn't know when I read this story and had to read about, is that that many species of cuckoos practice what's called "brood parasitism." That is, they'll let someone else to raise their young, usually by laying their eggs in another bird's nest. This bird can be another cuckoo or an entirely different bird. Tricky! The idea behind this horror story is great. What could be worse for a parent than having children picked off one by one? Or the thought that these deaths were not accidents, but part of a design carried out, knowingly or not, by another child? The big flaw is the execution of the idea, which is a big disappointment. The dialogue is unrealistic and used more as an expository tool than as dialogue between two characters. This is not a bad story, but it could have been fantastic. This story is available as a free download from Project Gutenberg. _____ Title: "The Cuckoo Clock" Author: Wesley Barefoot First published: Amazing Stories March 1954 Source: ISFDB *An earlier version of this review appeared on another site. It has been expanded and updated for its inclusion in myLot*
http://www.gutenberg.org/ebooks/29623
4 responses

• Preston, England
10 Apr 16
creepy idea for a story - the best use of cuckoos for such horror is John Wyndham's The Midwich Cuckoos, filmed twice as Village Of The Dammed - love the name Wesley Barefoot

• Colorado Springs, Colorado
5 Apr 16
Sounds interesting. I like Twilight Zone type of stuff.

• Los Angeles, California
3 Jun 16
The premise is intriguing. Amazing Stories is classic pulp fiction mag.

• United States
20 Apr 16
Well, I see my good friend
@arthurchappell
mentioned The Midwich Cockoos before I did. But considering the difference in years makes me kind of wonder if Wyndham might not have seen this story and though "I could do that better."