Cro-Fucious Says...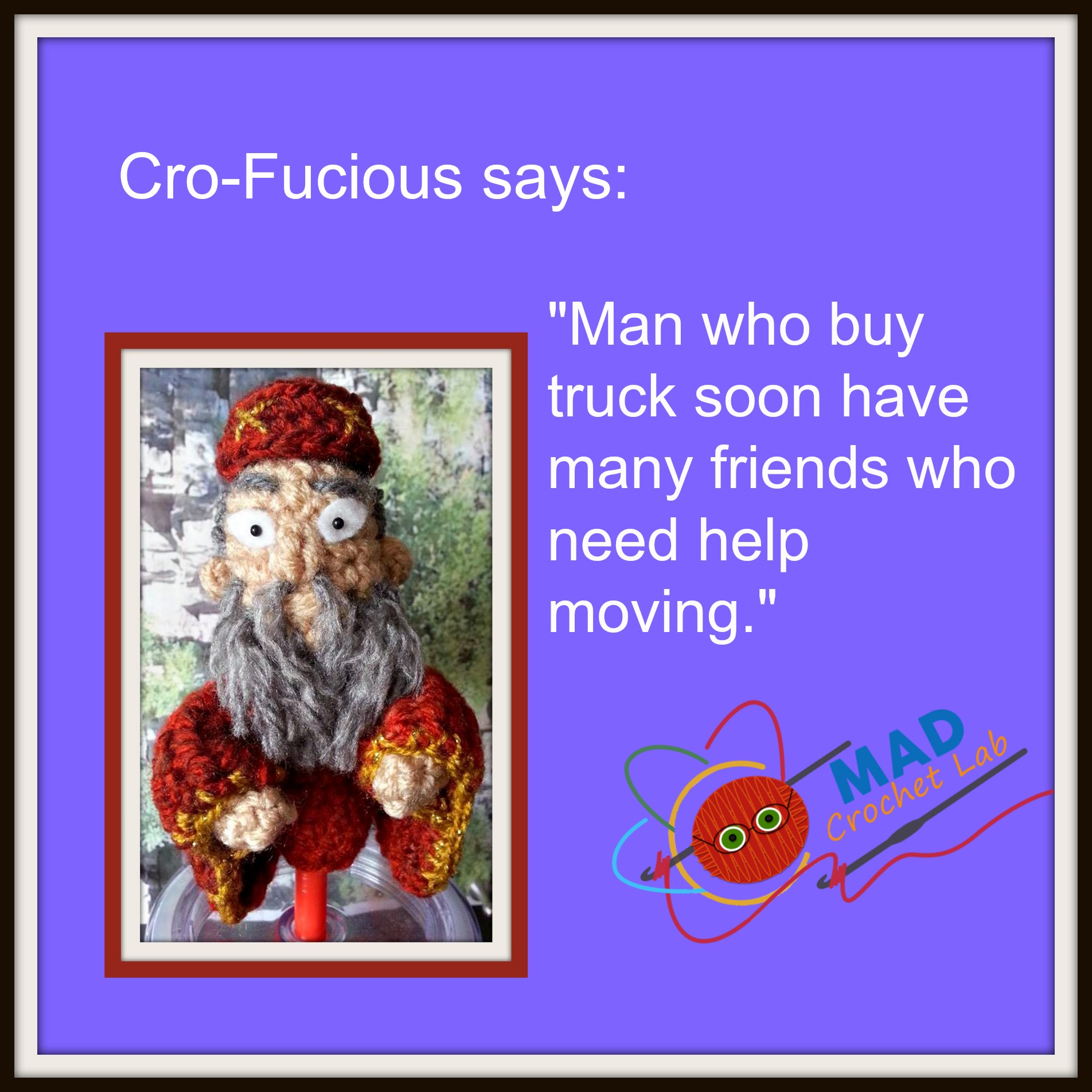 United States
April 5, 2016 9:34am CST
Another of my original designs is the crocheted version of Confucious. I call him Cro-Fucious. He is very wise for a finger puppet whose head is filled with stuffing. He is also a Murphy's Lawyer. He likes to pop in every so often and spout some wisdom to share. In this case, he is spot-on.
6 responses


• United States
5 Apr 16
I don't follow the Crochet Crowd, but I hear good things about them for learning crochet. I was crocheting already for many years before I realized there were so many online sites about it. I create my own designs and patterns for the most part anyway. I don't sell the Cro-Fucious finger puppet pattern but I DO have a whole lot of free patterns available on my website, which I think the link is shown on my profile for. Help yourself to check it out if you like. :)

• United States
5 Apr 16
I did actually interview Mikey one time for an online magazine type crochet site I ran for a while. He really doesn't seem to like the term "designer." LOL. He likes to refer to himself as a cruise director or entertainment director or something, if I recall correctly.

• Malaysia
10 Apr 16
@madcrochetlab
I haven't check out your website yet, I'll definitely check it out! I am always grateful for those talented and creative designers or scientists to create those patterns and share to others. I am happy if I can make one when following the pattern.

@vhpsandi
I do not know about crochet crowd. I will check that out too. Thanks for sharing!



• United States
7 Apr 16
Thank you so much! My husband and I found it to be true after he purchased his first pickup truck as well. LOL

• United States
6 Apr 16
I love him and the saying about the truck is so true!! lol

• United States
6 Apr 16


• Canada
14 Apr 16
And he is wonderful!!! I am in love. You are very talented.

• Malaysia
10 Apr 16
I like this! I wish I can make one of these historical wise men and showed the crocheted version of them when introducing to my children.


I like this quote Cro-Fucious said. Do you have a truck and make up this quote?