Vines are Strangling my Trees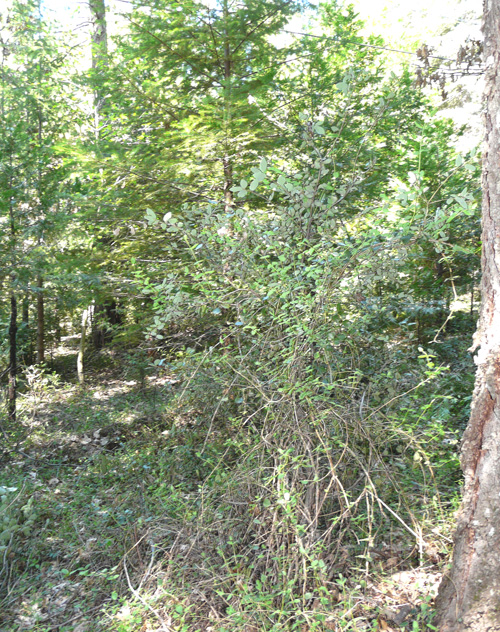 Nevada City, California
April 6, 2016 6:43pm CST
These vines grow up a small tree or bush, wrapping around the trunk and strangling the tree. They climb up the small trees and latch onto the lower branches of larger trees. I have seen them kill some big trees. I spent a good part of the morning pulling vines out of trees, trimming off the lower tree branches, and cutting some small trees that were growing near larger ones. Most of those baby trees will die anyway, because they don't get enough light in the thick forest. In the photo, the vines are so thick you can barely see the bush they are growing on.
7 responses

• Denver, Colorado
7 Apr 16
I've never seen that, or even heard of it before. I learned something new again today.

• United States
19 Apr 16
Same I never heard of vines just growing!


• Minneapolis, Minnesota
6 Apr 16
That picture looks so nice with no snow and the sun is shining. I am a bit jealous of your weather well ..minus your tree problem.

• Minneapolis, Minnesota
7 Apr 16
@norcal
I cant wait till summer here I miss the warmth.

• Nevada City, California
7 Apr 16
@Castlerock34
- I am enjoying the spring, but I'm not really ready for the 100 degree heat yet.


• Bunbury, Australia
7 Apr 16
Here, we have introduced vines which sometimes smother the native vegetation. They are a real pest.

• Bunbury, Australia
7 Apr 16
@norcal
If the conditions suit these aliens they have a great time don't they?

• United States
7 Apr 16
i can't make out which kinda vine ya got there, hon. but, i can relate. the virginia creeper here (planted coz it said "extremely hardy", which t'weren't no lie, lol) does quite a number'n the trees/shrubs 'round here if'n i don't keep a constant eye'n it. 'course, the more ya cut't the more it seems to grow.

• Nevada City, California
7 Apr 16
I looked up Virginia Creeper, since you are the second person to mention it. That does not look like my vines. The best strategy for me seems to be to cut down small plants and lower branches that it may climb on, and thin the trees. It doesn't grow in full sun, but only under trees.

• United States
7 Apr 16
@norcal
hmm, wonder what they're?? have ya taken a piece'f one to a local nursery to find out how its best to control the schtuff? i know that virginia creeper's taken its toll'n my trees out back coz i wasn't able to keep'em in check fer a few years. now i've scraggly cedars 'n my lilac bushes e'en perished due to 'em. most interestin' that the vine ya got their doesn't grow'n full sun. that's why the creeper climbs - to get outta the shade'f the trees here.

• Pikeville, North Carolina
7 Apr 16
When we bought this place there were lots of those vines about. K and I spent most of our first spring and summer chopping them off at the root and pulling them down. Now we try to stay ahead of them when they show up.

• Canada
7 Apr 16
It is amazing how much damage these vines can do to trees.

• Japan
6 Apr 16
Vines can be a real pain. Somebody planted Virginia creeper in my yard before I got the house and it grows up over the water heater (which is outside) and the aircon condensers (also outside). Bleah.