Discrepancy in myLot - Spot the Difference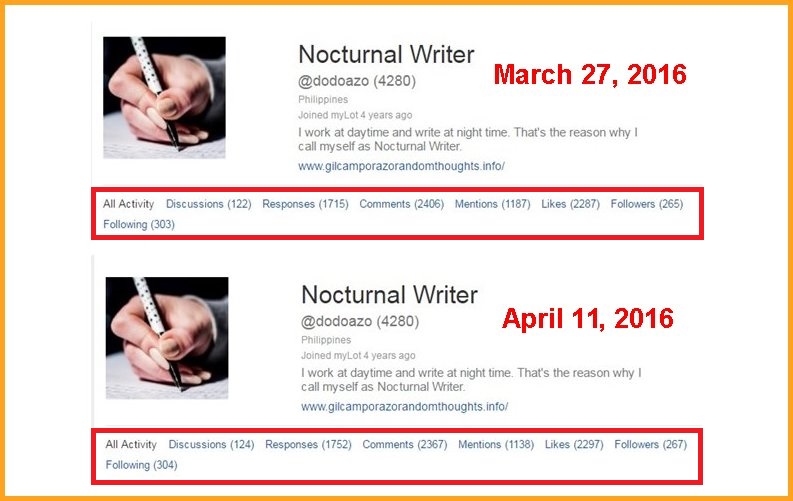 Philippines
April 11, 2016 2:20am CST
In March 27, 2016, my number of activities has reached to 4,280 which is broken as follows: 122 for discussions, 1,715 for responses, 2,406 for comments. This brings to the total of There is a difference of 37. Today, April 11, 2016, I have the same number of activities of 4,280 with that of March 27. The gap is 15 days. What happened to some of my activities? Here are my present activities:. Discussions, 124; Responses, 1,752; Comments, 2,367. A total of 4,243. The actual of March 27 and April 11 is 4,280. There is a difference of 37. What had happened? How do you interpret this?
5 responses

• Cambridge, England
11 Apr 16
I can't explain the discrepancies of 37 in each total except to say that the way in which the totals are generated may be different. Perhaps
@MyLotBugs
can offer a better explanation. The reason why your Comments total has reduced is most likely to be because some discussions in which you have commented have been removed.



• Philippines
11 Apr 16
I don't know to explain this, but I haven't noticed mine since I am not checking on it.

• Philippines
11 Apr 16
@dodoazo
Oh, I think I should check mine also. What I actually noticed is the rate of earnings differ even if I spend the same time and the same way.

• Philippines
11 Apr 16
@LdeL0318
Go ahead. Try to monitor your day-to-day activities here and you will know the big difference with your earnings, with your discussions either they are affected or not. At least, you have the grasp of actual activities here.



• United States
30 Apr 16
I see from another discussion that you are aware that people are sometimes deleting their discussions. I would guess you had participated in some of those discussions and that those activities have been deleted. Also some people are saying they are deleting comments and responses if they do not want to respond to them.