Been Hard at Work Knitting an Argyle Patterned Blanket, JK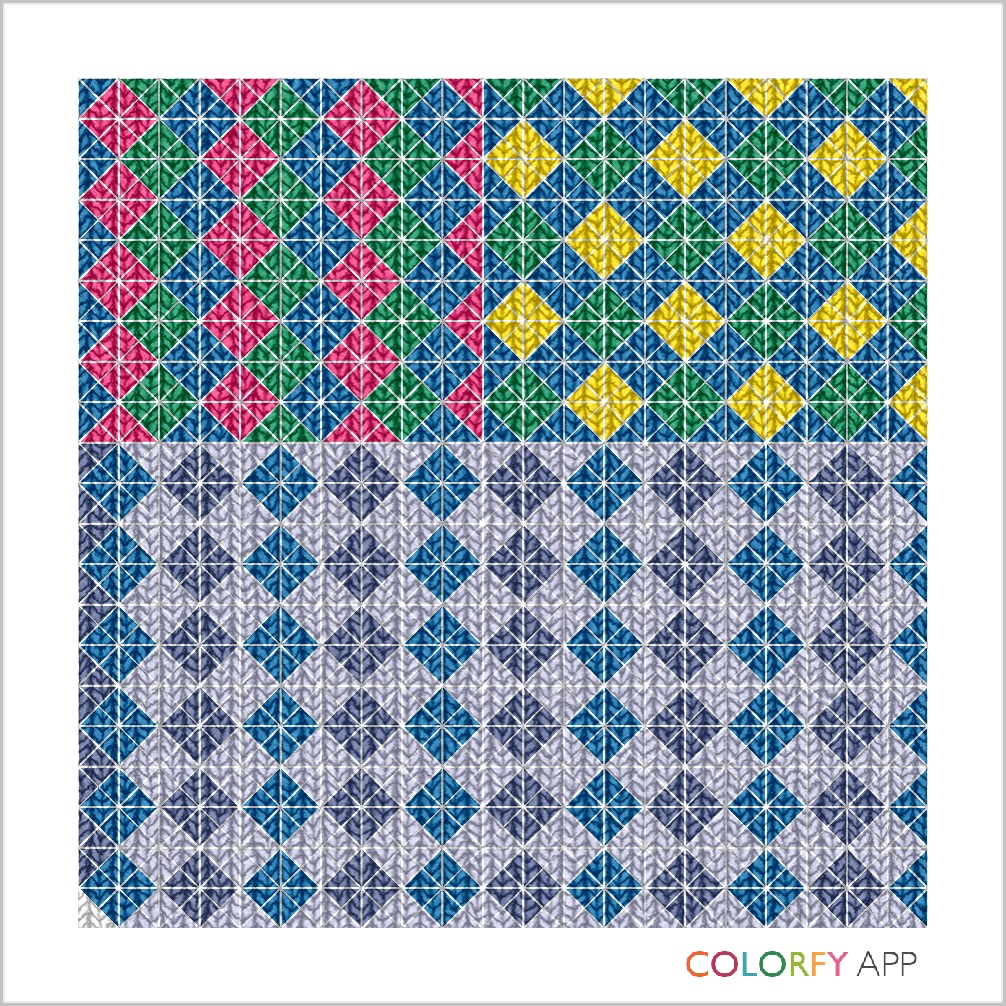 Midland, Michigan
April 15, 2016 11:01pm CST
You've met JK before, [just kidding]. Actually, it's not a blanket, and it's not a knitting project, but another of my coloring pages. I used the same pattern as before, but this time I looked up argyle patterns and chose three main ones to color in similar manner here. I chose the wool filter which is a background and makes it look like knitting or crocheting. I was going to write yesterday something about my goals for the day, but decided to wait until I accomplished them and then share. Well, I didn't get as much done as I planned. I helped my mother twice yesterday, for lunch and supper and stayed with her a little longer than usual. I got a few bills paid, and watched Grey's Anatomy with my daughter. It was a two hour show. We also went shopping for about an hour and a half in the afternoon. I was hunting down a specific style of support knee highs, but didn't find what I was looking for. I work the next two days, but am taking a stay-cation most of next week, Monday through Saturday. I'm hoping to fill in my days with several window cleaning jobs so we can pay more bills next week. The forecast for the next week is lovely as it's supposed to be in the seventies most days and the sixties only two of those days. I will be here off and on too, so see you around somewhere.
8 responses

• Toronto, Ontario
17 Apr 16
It's a lovely pattern and it does look like wool or material anyway- if I ever have time I spend it online on a few writing sites and so would not have time to colour- but it seems relaxing and I probably would enjoy it.

• Midland, Michigan
17 Apr 16
WHen I'm home, I spend most of my free time online too, but when I'm waiting at the doctor's office or at work once in a while and other places, that's when I color. But, I only have it on an app on my tablet. I've not purchased actual coloring books, nor do I intend to until maybe after I retire if at all. And, that won't be for another six or more year.

• Toronto, Ontario
18 Apr 16
@MarshaMusselman
It's the latest thing and very therapeutic, Marsha- In fact I colour a bit with my granddaughter and it is fun!


• Midland, Michigan
16 Apr 16
You are correct, it would take a lot longer to put it together in knitting or crocheting, than it did coloring it, but it was still fun working the three patterns to look as they do.

• Singapore
16 Apr 16
@MarshaMusselman
It sure looks nice, even if it is just coloring. I, for one, do not have the patience for it.

• Midland, Michigan
16 Apr 16
@scheng1
Did or do kids in your country color as children? If so and if you ever enjoyed it then, you may enjoy it again. Adult coloring, which is working with intricate patterns actually is supposed to help us with being peaceful and less stressed out, so it may improve your patience in the long run.


• Malaysia
18 Apr 16
When I looked at the pattern, I was thinking how long you will take to complete this. This pattern looks so complicated to me, and if it's a blanket, it's such a big knitting project. But, even if it's a coloring page, it does take quite some time also, right? Enjoy your coloring!



• Malaysia
25 Apr 16
@MarshaMusselman
That sounds a bit complicated to me.

I didn't know we have to stick with the pattern and get the colors correct. Perhaps I will go and try it out once, perhaps I won't really like it, as I always prefer free drawing with no rules at all.

Good that you enjoy it!


• Midland, Michigan
27 Apr 16
@kaka135
You don't have to stick with the pattern, you can do anything you like with it. It was my choice to stick with three particular patterns I found online just to see how it would look and whether it would turn out okay.

• United States
19 May 16
That is a pretty pattern.

• Midland, Michigan
19 May 16
Thanks, those are actually the three most common patterns for argyle items, I'm thinking. If there were a fourth, I'd have made it more even, but the rest followed one of those three patterns.

• Japan
18 Apr 16
It is very pretty. However, coloring such patterns would make me very bored very fast. I have started coloring a bit, pictures (they have scenery and famous paintings to color in Japan, it's pretty cool) and I get bored quickly with those too. I think it is probably good for my brain to color, though.

• Midland, Michigan
18 Apr 16
I don't think that everyone likes coloring. Did you enjoy it growing up, Denise? I enjoyed coloring even as i got older but eventually I quit as it would be considered questionable if we still colored once we reached a certain age. I currently don't have actual coloring books, but I use an app on my tablet instead. I could do animals, famous places, geometric patterns, scenery, florals, mandala's and other patterns too. Some are only available for a fee, and more colors are available for a feet too, which I'm not doing.


• Midland, Michigan
16 Apr 16
Honestly, Marie, I don't even know if it's a knitting patter or for crocheters? I prefer the latter, but haven't done any crocheting since my daughters were in their teens. The wool background does make it look authentic, doesn't it? This is as close as I'll probably get to knitting anything, lol. Do you knit or crochet at all?


• Midland, Michigan
16 Apr 16
That took about a week, but I don't do it every day, meaning the coloring. It took a little longer since I was trying to stick to a specific pattern. I kept a website open while filling in each pattern to start with. The weather will make for a great week if people are home and I can get in touch with them. I've found three customers I plan on contacting so far which would bring in an extra three hundred dollars. But they may not all want it done. One already contacted me, but we're playing phone tag, that one's a definite anyway. Others may begin calling this weekend. That tends to happen once the weather gets nice.


• Midland, Michigan
17 Apr 16
Thanks, usually once the weather gets warmer we get loads of calls. Thus far, I only have one person pegged in, but I left messages at two others. I thought of another person we could do and am hopeful she's ready. One that we used to do all the time in April just returned from Alaska, so I'm waiting a day or so before calling her. Thanks for asking. Once people realize spring is really here we should begin getting loads of calls, so much that we can't handle them all.