My Jello Cookies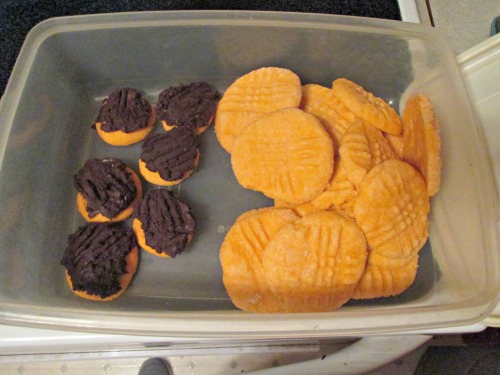 United States
April 16, 2016 10:01am CST
Well, those Jello Cookies were not as good as I thought they would be. I thought they would taste more like Orange since I used Orange Jello. They really don't taste a lot different than regular sugar cookies. Except my 6 year old took one bite and declared them yucky. Even the 2 year old doesn't want to eat them. When kids don't want to eat cookies, that is never a good sign. I guess I won't be adding Jello Cookies to my list of foods I'll fix often.
9 responses

• Midland, Michigan
16 Apr 16
They look good, but I don't know that I'd have considered trying jello cookies myself. Have I already run into you before on here? If so, I quite forgot you were around, but maybe it was on blogjob where I saw you last? I find more people that I used to know just by looking at another member's activity. Today the culprit was julia, and I better head back over to her place. See you around.

• United States
16 Apr 16
I can't remember if we've run into each other here recently, but I know I've "seen" you around here before. Most likely it was Blogjob. I'm more active there than here, when I can be active anywhere. I've become an internet writing slacker as of late.

• Midland, Michigan
22 Apr 16
@nonersays
I can only be active one place at a time. In fact one of my articles on hubpages was pulled for one of their new niche sites and I've been wanting to write a few more in the hopes they too make it to a niche site eventually. I've not been there yet either. I liked the setup of blogjob, but I didn't like that people didn't visit back. I spent a lot of time while there interacting and most others just did their own thing it appeared to me.

• United States
16 Apr 16
If you want the orange flavor you need to use orange zest.

•
16 Apr 16
What's on top of the small orange cookies? Is that chocolate?

• United States
16 Apr 16
Yes. The small ones were supposed to be dipped and covered in chocolate, but the chocolate would not melt, and started to scorch so I just mounded it up on top and called it a day.

• United States
7 Sep 16
I'm so disappointed! I thought you'd have a delicious new cookie recipe. At least now I'll know not to try the Jello one!


• United States
17 Apr 16
Maybe they would like it with a different kind of jello. I wonder about maybe kool aid powder to flavor cookies.

• United States
16 Apr 16
They look good and sound good....I wonder why they don't taste good too? I will look if you posted the recipe and might have to try them just because. Nice to see you here too, btw!