what is favorite sport's to play during ur schooldays?

Kuwait
6 responses


• Kuwait
17 Dec 06

it's nice the cricket too right? but i don't know how to play that kind of the games,because i never see that games before. and cricket is also known in india am i right? but i love the badminton also.:) than's for posting a comment's:)

• Kuwait
17 Dec 06

yep, i agree w/you. pakistan and india are very emotional interms of their sport cricket, because i read to the newspaper also that the fans of known cricket team's( i forgot the team) they protest because they want true who is the right to get the title,something like that, just correct if i mistaken. thank's

• United States
17 Dec 06
My favorite sport to play during school was baseball and being on the track team. In college, I played softball and volleyball.

• Kuwait
17 Dec 06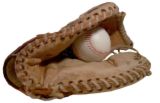 wow:) it's good, you have a lot of sports to play you are althletic. congrat's:) and thank you:)



• United States
24 Nov 06