A Rosier AC/DC?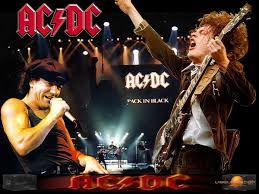 Saco, Maine
April 18, 2016 6:54am CST
I just read somewhere that Axl Rose, former lead singer of the band Guns 'n Roses, will be replacing vocalist Brian Johnson who is said to be going deaf. While that news in itself is not surprising considering the noise that any hard rock front man has had to endure for decades now, I find it hilarious that the band would think that Rose could even begin to replace him. But of course, it's their band, and they can do what they want. And it's not like I would ever pay money to see them, as my poor old ears could not take this kind of assault now. But that said, AC/DC has always been one of my all-time favorite bands. Even to this day, when one of their songs comes on my car radio, I turn it was up and rock to it. Yes, I probably look completely ridiculous to other drivers who must wonder what's up with the old gray-haired woman banging her head at the stoplight. So be it. I'll be curious to hear Rose in action with that band. Both Johnson and the man he replaced, the deceased Bon Scott, mastered the art of the high-pitched-yet-still-masculine scream. To me, Rose has always sounded like a teenage girl who can't get a new phone, and his brand of screaming has always grated on my nerves. Maybe the hardcore deep and guttural instrumental work that AC/DC is famous for will manage to balance out that effeminate whining. Or maybe all those years of screaming as the front man for his own band did prime Rose for this new gig. Time will tell. Meanwhile, I still have copies of AC/DC's original CD's in case this new development hasn't improved their unique sound. (Public Domain Image)
5 responses


• United States
18 Apr 16
I don't mind loud, in fact I love loud...but I hate distortion...it has to be clean and clear

• Saco, Maine
18 Apr 16
@JolietJake
I agree. Remember Canned Heat? Talk about distortion. Hard rock's come a long way since then. I've always loved AC/DC's clean editing, with no two sound variations overlapping.

• Saco, Maine
18 Apr 16
I've only been to one concert in my life, and I didn't like how "deaf" I was for days afterwards. But I don't mind blasting my car radio. When I'm home, I use headphones so I don't disturb my neighbors.


• Los Angeles, California
18 Apr 16
I thought Axl Rose was going to open for AC/DC. He replaces Brian Johnson? That may have gimmick appeal but no way! Malcolm Young already retired and with Johnson out, AC/DC is just Angus at this point. Honestly, without Johnson, the tour should have been canceled. I wouldn't be happy. And if Johnson joins Malcolm in retirement, then it's time for AC/DC to call it a day.

• Saco, Maine
18 Apr 16
I agree. And if I'm reading correctly, Johnson is retiring due to severe hearing problems. If nothing else, there has to be someone out there other than Axl who could fill those big shoes. Unless he's toned his fingernailsl-across-a-chalkboard screeching down to an acceptable level that is in keeping with the AC/DC style.

• Los Angeles, California
18 Apr 16
@Raelove
Yes, it's hearing issues for Johnson. The price of playing with the world's loudest band. I thought I spied him wearing ear plugs. At this point, Angus should just be a solo act and have a sound-a-like do the songs. It's like I always found it ridiculous for The Who to tour with half a group left.

• Saco, Maine
18 Apr 16
@JohnRoberts
The Beatles were smart to break up when they did and go their own separate ways. When Journey front man Steve Perry retired, that was it for me. One of the guys who replaced him could have been him if you had your eyes closed. But Perry was the heart of that band. I rarely like replacements of any type in the entertainment industry.


• Toccoa, Georgia
8 Nov 16
They will never be the same with Axl Rose.

• Saco, Maine
8 Nov 16
Not even close. I don't think that even happened. They tried it, but I heard recently that the band has officially called it quits.

• Bunbury, Australia
18 Apr 16
Some of the groups at the music festival we attended over the weekend were incredibly loud. We were very pleased with getting front row seats at one venue but immediately regretted it once the group began to play. And it wasn't even a rock festival.

• Saco, Maine
18 Apr 16
It's the same here, whether it's rock, country, jazz or whatever. They're all too loud. Young people can deal with it, and I could at one time. Not anymore.

• United States
18 Apr 16
the sad part of all of this.They many young people are experience hearing loss.