Photo Study – Steampunk Ladies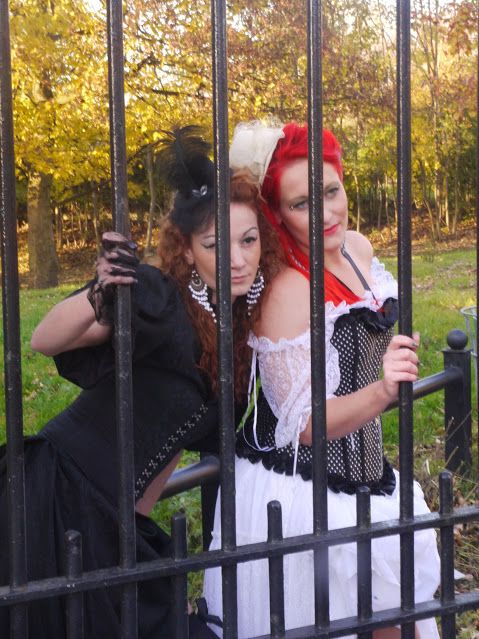 Preston, England
April 18, 2016 2:51pm CST
Another of my Steampunk photos, which was taken in Queen's Park, Harpurhey, Manchester. We were using a pub called The Hellfire Club (now sadly closed) for the shoot and we also made use of the adjoining park and a disused cemetery nearby. This shot uses a recurrent idea in my shoots, photographing models through bars and gateways. It captures a dangerous sense of being caged or imprisonment but with ambiguity – am I on the outside or are they visiting me? The Steampunk outfits here are quite gorgeous. Arthur Chappell
8 responses

• Centralia, Missouri
19 Apr
I absolutely love old cemeteries. There is one near the college in Hannibal Missouri, I could be there with friends at 2 in the morning and it was still the most peaceful place on earth. One in Walla Walla Washington like that too, although I was never at that one at night

• Preston, England
19 Apr

• Centralia, Missouri
19 Apr
@arthurchappell
I find many so peaceful, as if the world outside ceases to exist when you cross the border

• Preston, England
19 Apr
@Jessicalynnt
they are lovely places, and I love the styles of the various grave markers and wondering who the people under them were


• Preston, England
21 May
@Inlemay
without the beauty of the ladies the outfits would not look so good. The same pose with me in the dresses would look rubbish

• South Africa
21 May

• Bunbury, Australia
18 Apr
Nice photo - and I love the costumes too. Do you hire them?

• Preston, England
19 Apr
@JudyEv
the models buy or make their own costumes - many of them are burlesque performers or science fiction fans so they have such outfits in their wardrobes already

• Bunbury, Australia
19 Apr

• Luxembourg, Luxembourg
19 Apr
I love the outfit.




• Manitou Springs, Colorado
18 Apr
Very lovely ladies. Great photo.

• United States
18 Apr
That is cool there I loved it



• United States
18 Apr
The Steampunk Ladies are looking good!