Bloom without Reason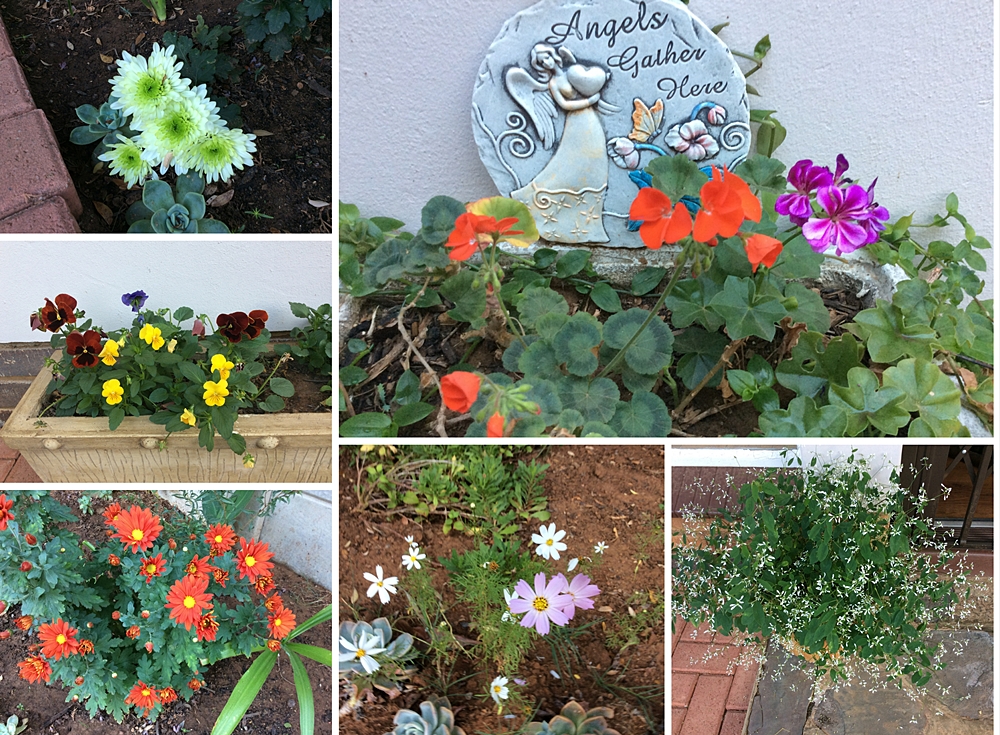 South Africa
April 19, 2016 1:51am CST
"Love without reason - bloom without season." ~ Debasish Mridha I have been meandering around the garden this morning while the birds that haven't flown to England tweet around the trees, gathering all the fluff off the grass left by my cats that were brushed yesterday and loved the feel of the cooler, crisps, soft brush of a breeze on my brow, as I found a few wonderful blooms. Angels live here . . . . We had some thundering thunder storms last night and quite a down-pour which has left the earth, fresh and clean - nothing like the rain to clean any garden of drab dryness and give new life and growth to everything. My Geraniums are blooming again - taking me back to when I planted them which gives me a little spot of Switzerland on my patio. My husband still remarked that he was glad I didnt want to plant a seed of the ALPS, that might have grown into a problem! ha ha (he is funny) The chrysanthemums I replanted out the pots that were left after my mothers passing, they are blooming well. The pansies I planted a month ago when I got home from my African travels - they are looking great in their pots. The other white heather looking potted plant (dont know what it is) I got for my birthday and is growing beautifully. Then there is a little bunch of cosmos' which my hubby planted a few weeks ago, the seeds have done well and there are many still to grow and bloom a little later. So for an August garden, I think the blooms are doing well and my garden is alive with colour. The grass is still green, the trees are starting to shed their leaves, but for now is a pretty picture. "But like any friendship or relationship, everything starts off as a tiny sprout-or so my granny says. If you neglect or smother it, it will eventually wither. But when nurtured and cared for properly...it will bloom into something special." dedicated to my garden of MyLotters - may you bloom beautifully today Ciao for now
8 responses

• United States
19 Apr 16
i simply adore that last quote 'n 've always called the folks i cherish't this place ('n that 'other place, lol - most're the same folks) the flowers'n my garden. beautiful flowers 'n i'm so glad that those mums're prosperin', what a lovely color indeed. there rest'r jest's lovely :D not a clue's to the plant with the delicate white flowers. it finally rained here this past eve. not entirely true, a slow drizzle fer 'bout 3 hours 'n then a bit'f a heavier shower. lightnin' danced all 'round, 'twas beautiful to see't crossin' the skies. yer correct, that smell'f freshness calms the soul 'n those plants jest giggle with delight. big hugs!

• United States
19 Apr 16
@Inlemay
that's so endearin', hon. did the same here fer years 'n then the drought came...'n stayed 'n many'f those perished that i'd planted fer jest that :(




• Luxembourg, Luxembourg
20 Apr 16
Your garden looks really lovely. enjoy the colours.

• Roseburg, Oregon
19 Apr 16
I hope your garden grews really good.