Rolling board and Belan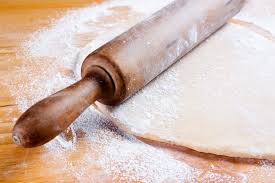 Hyderabad, India
April 19, 2016 9:14pm CST
This is one of the traditional and a quite accessible tool available for Indian Housewife used in the preparation of Roti (Flat Bread). Whatever may be the material of the flatbread, first the dough will be prepared and is divided into small balls, the quantity of each one is meant for one flatbread as a measure. Each ball is kept over a Rolling Board and is pressed with a Belan and it is given a desirable shape of appropriate size. Then it will be heated over a pan kept on a stove. One should know that both the Rolling Board and Belan will be made of the same material. They both should have the same color (This is particularly important that they should never have opposite colors) Generally, they both are made of wood. Does anybody use this tool now?
1 response

• Canada
20 Apr 16
I'm curious as to why they can't be of different colours or materials. Is there a specific reason? I'm really glad you are choosing to write about the everyday activities of life in India. This is really fascinating, and I'm sure others will want to learn about it too!

• Hyderabad, India
20 Apr 16
Thank Q for the interest you have shown. Your question is extremely interesting. You are the person who questioned catching the correct point. This is out of my personal experience I write everything. These two can not have different colors. These are available in Black and White colors. You should choose either whole white or whole black. you should not choose a white flat Roller and a Black Belon and vice versa. Suppose you chose a white flat roller and a black belon. When you prepare flat bread (Roti) you keep the dough ball on a white flat roller and press it with a black one. It means you are pressing the food with a black one. Black one represents Saturn. The food prepared will be under the influence of Saturn and will affect the health and luck of the persons. Similarly, you should not press the dough ball over a black flat roller. When I was running a bad time I happened to contact a Tantrik. He just closed his eyes and informed me that I was preparing the food using a black belon and a white flat roller and advised me to use only one color and explained the fact. By the time I could change it I was already under the influence of Saturn. When I changed it, no doubt, the things improved. But, the influence of Saturn was more on my mother and while leaving my house he took my mother's life also along with him. This is a terrific experience I had.

• Hyderabad, India
20 Apr 16
@shivamani10
From that day onwards I advised everyone not to go for two different colors. The whole thing is based upon Indian Astrology. There are good astrologers and Tantriks in India. A tantrik whom I met never visited my house. Just closing his eyes he could see what was wrong with my house and other articles. Is it not a surprise?

• Canada
20 Apr 16
@shivamani10
I don't know about Indian astrology, but in Western astrology Saturn rules time and the elderly. It can pose a lot of challenges and obstacles, too. I can see why you might want to avoid that influence.