Needlers Group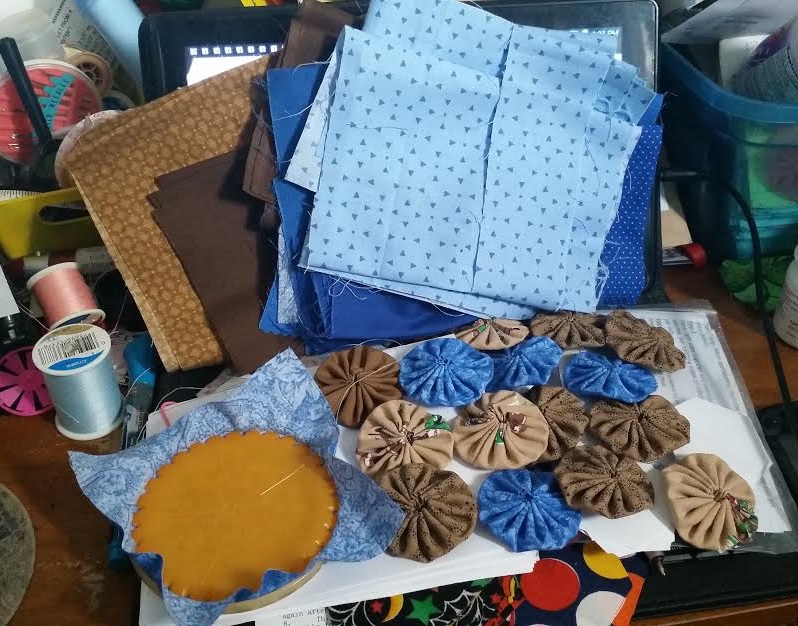 United States
April 20, 2016 3:10pm CST
Needlers is another of my outings each month. The 3rd Wednesday of each month from 1-4 pm, I head to the quilt shop with some hand sewing work. There aren't many of us that come anymore and I need to work on recruiting more. It's a relaxing afternoon with socializing while we all work on our own projects. Today I took yo-yo's to work on. The picture I'm sharing is what I had done on them as of yesterday and is also the same picture I shared in my WIP Wednesday blog post today. I don't know exactly how to describe a yo-yo other than what you can see in the picture. I use a "cheater" yo-yo maker, which is also in the photo with fabric in, ready to be trimmed, then sewn around. Many quilters make the yo-yo's with the maker. These yo-yo's are being made to make a larger table runner in brown and blue that is a request.
6 responses

• United States
20 Apr 16
Hey, girl! How are you? Can I join?--i can't knit but I like to needle people

• United States
21 Apr 16
I'm afraid we don't need you to needle us LOL

• Canada
21 Apr 16
I really need to get back into some needlework but honestly I don't know where you find the time to do everything you do! Your days are longer than 24 hours right?? And you don't sleep lol.

• United States
27 Apr 16
I think I made yo yos for a project about forty years ago.

• Boise, Idaho
20 Apr 16
I need to find something fun for my daughter to do.

• United States
20 Apr 16
I never knew what those pretty little things were called. Glad your group is so enjoyable and I do hope you get more members to join the fun!

• Canada
6 May 16
Stitching is relaxing for me. I wish I had more time for qu Outing.

• United States
27 Apr 16
I think on one of the MSQ sales I got a little yo yo maker. Have to look for it.