the latest model RIPPED DENIM PENCIL SKIRT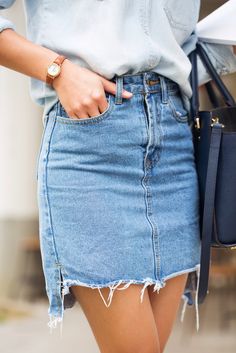 Hyderabad, India
April 22, 2016 10:57am CST
As a companion of Hot pants and short shorts, the ripped denim pencil skirt has entered into the market. The speciality of this skirt lies in its ripping pattern in the front and a slightly lengthy back portion of the skirt. The pencil skirt as usual as comfortable in all respects as the normal pencil skirt. The difference can be felt when one sits. The back portion of the skirt covers the mid thigh region perfectly than the front portion. A nice change for youngsters...for a good variety..
5 responses

• United States
22 Apr 16
Okay,Not interest in pencil or ink skirt.I will take the short shorts. Beside I am gay.Have no interest






• Canada
22 Apr 16
I kind of like that look! We spent a long time converting our jeans to skirts in the 70s... and then "sequining" them up to look awesome lol!

• United States
22 Apr 16
For the young ones, I do like that skirt. We wore hot pants and short shorts when in the 1970s college days.

• Philippines
22 Apr 16
That's sexy! Seems like they are running out of ideas.