The second Iris isn't as exciting as the first...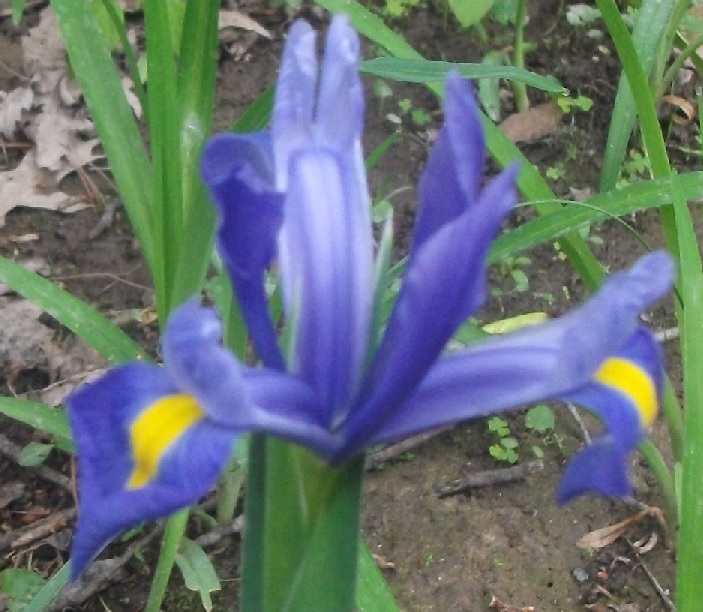 April 23, 2016 8:46am CST
Especially since the first has already wilted. But it was unexpected, so it was still cool. I wish they'd all bloom at once though, I think it'd be a bit more impressive to walk out front and find a dozen blooms. These also appear to only have one bloom per plant, unlike some types that have multiple blooms. But it is nice to let Scar out on an otherwise cool and dreary morning to find an unanticipated spot of color...
10 responses

• Jacksonville, Florida
23 Apr 16
They are so pretty, even if it is the second one I still think it's exciting! I love flowers. =)

•
23 Apr 16
At least this time it shows closer to purple, as it actually looks, instead of 'The Blue Kind'


• Jacksonville, Florida
23 Apr 16
@JolietJake
Yes now I can call it the purple kind!


• Centralia, Missouri
23 Apr 16
I always love that plant, and lilies. but they didnt seem to last long

•
23 Apr 16
I got a good 5 days out of the first one, but yeah, they don't really stay long

• Centralia, Missouri
23 Apr 16
@JolietJake
my rose bushes do better, but I rather like the odd plucky little plants.

• Bunbury, Australia
24 Apr 16
My Mum had quite an extensive bed of Dutch iris. She was very fond of them. The bearded iris are lovely too. Do you have any of them?

•
24 Apr 16
I think I have about a half-dozen of the bearded variety....Dad said these are Asian, I guess


•
23 Apr 16
These were just planted last fall, I'm not sure of the variety of them

• Los Angeles, California
23 Apr 16
Even if it's only a single bloom, that's still nice to go outside and see a splash of natural color.

•
23 Apr 16
I didn't even realize this one was ready to go, the first one I saw the bloom form a day or two before it opened.


• Greencastle, Indiana
23 Apr 16
yeah I would LOVE to see all mine bloom at one time too I thought that was the whole Idea to plant them all together so they would but ? that don't seem to be the case


• Philippines
24 Apr 16
I think I have those plants in my front yard but never knew its name.

• Summerville, South Carolina
23 Apr 16
The first is always the most exciting. It signals spring. I'm sorry the weather hasn't lived up to the promise the flower made.


• Dollard-Des-Ormeaux, Quebec
23 Apr 16
Enjoy your irises, even if they only bloom one at a time.